LGBT People More Likely to be Targets of Hate Crimes than Any Other Minority Group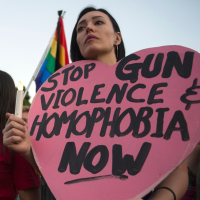 (photo: Andrew Caballero-Reynolds, Getty Images)
By Haeyoun Park and Iaryna Mykhyalshyn, New York Times
Even before the shooting rampage at a gay nightclub in Orlando, Fla., lesbian, gay, bisexual and transgender people were already the most likely targets of hate crimes in America, according to an analysis of data collected by the Federal Bureau of Investigation.
L.G.B.T. people are twice as likely to be targeted as African-Americans, and the rate of hate crimes against them has surpassed that of crimes against Jews.
Politicians have been divided on how to define the Orlando tragedy. President Obama called it both "an act of terror and an act of hate." But some Republican officials have refused to acknowledge that it could be considered a hate crime.
Senator Mitch McConnell of Kentucky, the majority leader, has omitted any mention of gays when talking about the massacre, and Representative Pete Sessions of Texas has said the site of the shooting was not a gay club.
According to a CBS News poll released on Wednesday, however, most Americans call the attack both a hate crime and terrorism. And the nightclub, Pulse, on its Twitter account, billed itself as "Orlando's premier gay ultra lounge, nightclub and bar."
Nearly a fifth of the 5,462 so-called single-bias hate crimes reported to the F.B.I. in 2014 were because of the target's sexual orientation, or, in some cases, their perceived orientation.
Ironically, part of the reason for violence against L.G.B.T. people might have to do with a more accepting attitude toward gays and lesbians in recent decades, say people who study hate crimes.
As the majority of society becomes more tolerant of L.G.B.T. people, some of those who are opposed to them become more radical, said Mark Potok, a senior fellow at the Southern Poverty Law Center.
The flip side of marriage equality is that people who strongly oppose it find the shifting culture extremely disturbing, said Gregory M. Herek, a psychology professor at the University of California, Davis, who is an expert on anti-gay violence.
"They may feel that the way they see the world is threatened, which motivates them to strike out in some way, and for some people, that way could be in violent attacks," Mr. Herek said.
Last summer, less than two months after the United States Supreme Court ruled in favor of same-sex marriage, a New York City man was arrested and charged with a hate crime for attacking Larry and Daniel Lennox-Choate, the first gay couple to be married at West Point Military Academy.
A few months later in Palm Springs, Calif., a gay married couple, George and Chris Zander, who were also L.G.B.T. leaders in their community, were assaulted outside a local nightclub. Palm Springs officials said they believed it was the second crime there that year that targeted L.G.B.T. people.
In March of this year, Elliot Morales was convicted of murder as a hate crime for killing Mark Carson, a gay black man, in Manhattan three years earlier. Mr. Morales had shouted anti-gay slurs at Mr. Carson and his companion before shooting him.
This week, just days after the Orlando shooting, a judge sentenced Mr. Morales to 40 years to life in prison.
Finding accurate statistics about hate crimes targeting L.G.B.T. people is challenging, in part, because victims — fearful of outing themselves to family members or employers — might choose not to report an attack, Mr. Herek said.
A recent report by the Bureau of Justice Statistics found that most crimes are not reported to the police, and those that are reported are frequently not classified as hate crimes by local jurisdictions.
A recent investigation by The Associated Press found that thousands of city police and county sheriff's departments had not filed a single hate crime report to the F.B.I. between 2009 and 2014.
Larger cities or cities with a more visible L.G.B.T. community are more likely to have procedures and training in place to detect and reduce hate crimes.
For example, in 2014 only one hate crime was reported for the entire state of Mississippi. In Connecticut, where L.G.B.T. people are arguably more visible and influential, 23 hate crimes based on sexual orientation were reported, Mr. Herek said.
A look at four years of homicides of L.G.B.T. people catalogued by the National Coalition of Anti-Violence Programs shows that the vast majority of those who were killed were black or Hispanic transgender people.
The group collects data on violence against L.G.B.T. people in 12 states, and is considered one of the most authoritative sources of such data.
It recorded 88 homicides of L.G.B.T. people from 2012 to 2015. The data offers insight into the victims of extreme violence, but the total number L.G.B.T. homicides is most likely much higher since the group is not able to collect data nationwide.
Among those killed last year was India Clarke, a black transgender woman who was beaten and shot in July at a park near the University of Tampa in Florida. Keith Gaillard, the man charged in her murder, was also accused of killing a man believed to be gay less than a week later.
A separate report by the Human Rights Campaign said that more transgender people were killed in 2015 than during any other year on record.
At a time when transgender people are gaining visibility, "transgender women of color are facing an epidemic of violence that occurs at the intersections of racism, sexism and transphobia – issues that advocates can no longer afford to address separately," Chad Griffin, the president of the Human Rights Campaign, said in the report.
There is a long history, particularly in the transgender community, of not being treated with respect by law enforcement, social service agencies and the legal system, said Roger Coggan, director of legal services at the Los Angeles L.G.B.T. Center.
"Unfortunately, we just have to accept the fact that stigma based on sexual orientation is still widespread," Mr. Herek said. "Overcoming those prejudices is a lot of work."
To Learn More:
2,700 U.S. Law Enforcement Agencies Haven't Filed a Hate Crime Report with FBI in 6 Years, Skewing National Tally (by Christina A. Cassidy, Associated Press)
Gay Rights Bill Shot Down by U.S. House Republicans (by Erica Werner, Associated Press)
Federal Hate Crime Conviction Rate: 11% (by Noel Brinkerhoff, AllGov)
FBI Begins Tracking Hate Crimes against Arabs, Hindus, Sikhs and Muslims (by Noel Brinkerhoff and Steve Straehley, AllGov)
Education Dept. Proposes Requiring Colleges to Release Statistics on Sexual Assaults and Hate Crimes (by Noel Brinkerhoff, AllGov)
Louisiana Sheriffs Still Arresting Gay Men for Law Declared Unconstitutional (by Noel Brinkerhoff, AllGov)