Federal Hate Crime Conviction Rate: 11%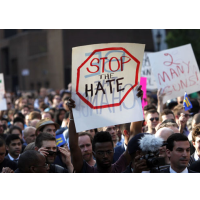 (photo: Jason DeCrow, AP)
The Obama administration has generated a low rate of punishing individuals accused of committing hate crimes over the past six years.
Federal data examined by the Transactional Records Access Clearinghouse (TRAC) at Syracuse University found the Justice Department has received 270 hate-crime referrals since 2009. Out of those 270 referrals, only 29 individuals were convicted, or about 11% of cases.
"An additional six were prosecuted but were not ultimately convicted," according to TRAC.
The research also revealed that most of the referrals didn't lead to convictions because they were never tried in court. Prosecutors turned down 235 out of the 270 total hate crime referrals, or 87%, per TRAC.
More than half of the rejected cases were due to insufficient evidence, lack of evidence of criminal intent, and weak or insufficient admissible evidence.
A total of 7,242 people in the U.S. were victims of reported hate crime incidents in 2013, according to the FBI's annual Hate Crime Statistics report. There were 5,928 hate crime incidents that involved 6,933 offenses which were reported to the department by law enforcement agencies across the country.
-Noel Brinkerhoff
To Learn More:
Convictions in Federal Hate Crime Cases Since FY 2010 (TRAC Reports)
Latest Hate Crime Statistics Report Released (Federal Bureau of Investigation)
FBI Begins Tracking Hate Crimes against Arabs, Hindus, Sikhs and Muslims (by Noel Brinkerhoff and Steve Straehley, AllGov)