Education Dept. Proposes Requiring Colleges to Release Statistics on Sexual Assaults and Hate Crimes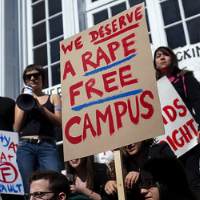 Protest at Dickinson College in Carlisle, Pennsylvania (photo: Christine Baker, The Patriot-News)
In an attempt to reduce rapes and hate crimes on college campuses, the U.S. Department of Education has proposed new regulations that would expand reporting requirements for school officials.
Following up on Congress' adoption of the Violence Against Women Reauthorization Act (VAWA) in 2013, the Education Department crafted a series of changes to the Clery Act, which was adopted in the mid-1980s following the rape and murder of college co-ed Jeanne Clery in her dorm by a fellow student.
Existing law mandates colleges to disclose campus-wide statistics on sexual assault to workers and new students. The Clery Act also requires university administrators to show proof of rape-prevention programs and procedures for handling such incidents.
But under the proposed rules, colleges would also have to reveal statistics on date-rape attacks as well as incidents involving domestic violence and stalking, including cyber-stalking and on-line humiliation.
"The department has the responsibility to ensure that our higher education institutions are creating safe environments for students and are appropriately reporting crimes that occur on or near their campuses," Education Secretary Arne Duncan said in a prepared statement. "These new rules [would] strengthen schools' capacity to provide safer college campuses for students and to keep everyone better informed about campus security policies and procedures."
In addition, schools would have to work towards helping sexual assault victims receive academic and living-environment accommodations, and for holding "prompt, fair, and impartial disciplinary" proceedings to resolve allegations.
Furthermore, the types of hate crimes that must be reported would expand to include "gender identity" and "national origin."
The Education Department plans to issue the final regulation in November.
-Noel Brinkerhoff
To Learn More:
Agency Expands Stats to Reduce Sex Crimes (by Nick McCann, Courthouse News Service)
Violence Against Women Act (Federal Register)
Four California Colleges among 55 Investigated by Feds for Handling of Sexual Abuse Complaints (by Ken Broder, AllGov California)