Leftovers from Afghanistan and Iraq Wars: 1,558 Amputations; 7,224 Severe Brain Injuries; 118,829 Post-Traumatic Stress Disorders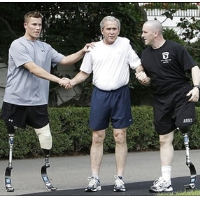 George W. Bush with Afghanistan War amputees Neil Duncan and Max Ramsey, July 24, 2006 (photo: Chris Kleponis, Pool, Getty Images)
The American toll from the wars in Iraq and Afghanistan can be contemplated in many different ways, thanks to the Congressional Research Service (CRS).
A new CRS report (pdf) has provided a human accounting not only of how many service personnel died in the two conflicts, but of the many kinds of serious, life-long injuries with which thousands returned home.
A total of 1,558 soldiers endured major limb amputations as a result of battlefield injuries. Major limb amputations include the loss of one or more limbs, the loss of one or more partial limbs, or the loss of one or more full or partial hand or foot, according to the CRS.
Considerably more military personnel suffered "severe or penetrating brain injuries"— 7,224. Another 23,319 men and women were diagnosed with "moderate" brain injuries.
When "mild" and "not classifiable" cases are factored in, nearly 288,000 total brain injury cases were reported among all military personnel deployed and not deployed.
Then there are the post-traumatic stress disorder cases. The military and the Department of Veterans Affairs are currently trying to help 118,829 individuals who made it back with this mental disorder.
The CRS report also provided a demographic breakdown of those killed in Iraq and Afghanistan (so far).
The Iraq campaign resulted in 4,476 American deaths. Female personnel accounted for 110 of the fatalities; the rest were men.
The vast majority of Iraq war deaths were Caucasian (3,697), followed by 444 blacks,
230 Hispanics, and 78 Asians.
In Afghanistan, there have been 2,299 military deaths as of January 6, of whom 49 were female. The ethnic composition is as follows: 1,953 whites, 188 blacks, 92 Hispanics, 63 Asians, and others.
-Noel Brinkerhoff
To Learn More:
A Guide to U.S. Military Casualty Statistics: Operation New Dawn, Operation Iraqi Freedom, and Operation Enduring Freedom (by Hannah Fischer, Congressional Research Service) (pdf)
Obama Afghanistan Deaths Top Those of Bush (by Noel Brinkerhoff, AllGov)
139 Female Soldiers Have Died in Iraq and Afghanistan (by David Wallechinsky and Noel Brinkerhoff, AllGov)
Number of Americans Wounded in Iraq is Obscured by Fog of War…and Peace (by Noel Brinkerhoff, AllGov)