139 Female Soldiers Have Died in Iraq and Afghanistan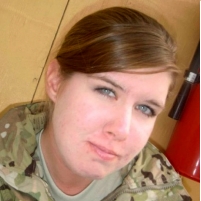 Mikayla Bragg
The wars in
Afghanistan
and
Iraq
demonstrated how much the roles of women in the U.S. military have expanded.
During a decade's worth of conflict, more than 283,000 women were deployed to the two countries. Hundreds of them served in harm's way, according to casualty figures.
More than 800 female service members have been wounded in either Afghanistan or Iraq, and at least 139 have died from combat- and non-combat-related incidents. Of these, 110 died as a result of serving in Iraq, however the last thirteen have all died in Afghanistan.
Although the prohibition against women serving in combat units was lifted in 1994, it has been U.S. policy to exclude women from ground combat units. However, in Afghanistan and Iraq, women have served as foot soldiers during door-to-door operations and they have been involved in convoy escort missions. Most female soldiers who have lost their lives during the last ten years have been the victims of "hostile" action.
The most recent female soldier to be killed in Afghanistan was 21-year-old Army Specialist
Mikayla Bragg
, who was shot to death while in a guard tower in eastern Afghanistan, near the Pakistani border on December 21. Her family said that she joined the Army to earn money and pay for college.
About 20,000 women are still serving, mostly in Afghanistan.
-David Wallechinsky, Noel Brinkerhoff
To Learn More:
First Death of a U.S. Woman Soldier Trying to Win Hearts and Minds of Afghan Women (by Noel Brinkerhoff, AllGov)