HSBC Helped Dictators and Arms Dealers Launder Ill-Gained Funds
Tuesday, February 10, 2015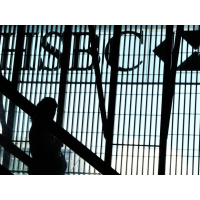 (photo: Laurent Fievet, AFP/Getty Images)
The world's second largest commercial bank has been exposed for having offered its accounts and services to nefarious individuals, including dictators and arms dealers.
Documents stolen from HSBC by a whistleblower show the banking giant's Swiss operation helped finance arms dealers responsible for fueling conflicts in Africa that used child soldiers.
Other documents revealed dealings with associates of infamous dictators as well as
traffickers in blood diamonds. Third World despots, whose "bag men" conducted their business with the bank, included both current and former authoritarian rulers, including ex-Egyptian president Hosni Mubarak, former Tunisian president Ben Ali and current Syrian ruler Bashar al-Assad.
"The leaked files, based on the inner workings of HSBC's Swiss private banking arm, relate to accounts holding more than $100 billion. They provide a rare glimpse inside the super-secret Swiss banking system — one the public has never seen before," Gerard Ryle wrote at the Center for Public Integrity, which worked with the International Consortium of Investigative Journalists (ICIJ) on the project.
Other revelations exposed HSBC's helping wealthy individuals avoid paying taxes in their home countries by sheltering millions of dollars in Swiss bank accounts. Ryle noted that experts "conservatively estimate that $7.6 trillion is held in overseas tax havens, costing government treasuries at least $200 billion a year."
Some of HSBC's clients have previously been linked to al Qaeda. A 2012 U.S. Senate report cited an alleged list of financial benefactors to the terrorist organization. That list had been referred to as the "Golden Chain" by Osama bin Laden, according to the Center for Public Integrity. ICIJ, which obtained the secret bank records via the French newspaper Le Monde, found documents showing that three of the "Golden Chain" names were still active with HSBC after 2003.
When HSBC first got wind of the theft, it demanded that ICIJ destroy the documents. But after learning the extent of the disclosures, the bank tried to explain away the compromising evidence by saying it has been in the process of "repositioning" its policies, instituting reforms that dropped clients "who did not meet strict new HSBC standards," particular in relation to "tax compliance." Consequently, there has been a 70% reduction in the client base of the bank's Swiss branch over the course of eight years, added HSBC.
Such a high figure may be indicative of the degree to which improper banking relationships and activities have been the norm at HSBC.
For this, the bank blamed the banking industry at large for having held to such low standards until, it claimed, only recently. "We acknowledge that the compliance culture and standards of due diligence in HSBC's Swiss private bank, as well as the industry in general, were significantly lower than they are today," it wrote in a statement to ICIJ.
"I think they were a tax avoidance and tax evasion service," said Richard Brooks, author of The Great Tax Robbery. "I think that's what they were offering. They knew full well that people come to them to dodge their tax liabilities."
Based in London, HSBC maintains branches in 74 nations around the world. Criminal investigations are currently underway against the bank in the U.S., France, Belgium and Argentina. So far, no legal action has been taken against it in the United Kingdom.
- Danny Biederman, Noel Brinkerhoff
To Learn More:
Swiss Leaks: Murky Cash Sheltered by Bank Secrecy (International Consortium of Investigative Journalists)
HSBC's Clients Linked To Dictators, Arms Dealers and Tax Dodgers (by Gerard Ryle, Center for Public Integrity)
HSBC Bank 'Helped Clients Dodge Millions in Tax' (BBC News)
HSBC Hit with Fine for Helping Drug Cartels and Dictators; Executives Too Big to Jail (by Noel Brinkerhoff, AllGov)