Director of the Office of Public and Indian Housing: Who Is Hunter Kurtz?
Wednesday, October 18, 2017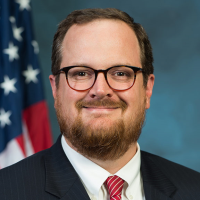 Hunter Kurtz
President Donald Trump on September 15, 2017, nominated Hunter Kurtz to be the next director of the Office of Public and Indian Housing (PIH). Now located in the Department of Housing and Urban Development (HUD), PIH was created in 1937 and now has an annual budget of more than $26 billion, most of which is spent on tenant-based rental assistance. Kurtz currently serves as deputy chief of staff for policy and programs in the office of HUD Secretary Ben Carson. If confirmed by the Senate, Kurtz would succeed Lourdes M. Castro Ramírez, who served from 2014 to the close of the Obama administration.
Born in 1978 to Robert Kurtz and Candice (Greenwald) Kurtz, Robert Hunter Kurtz grew up in Richmond, Virginia, and earned a B.A. in Government at Hamilton College, a liberal arts college in Clinton, New York, in 2001.
After graduation, Kurtz began his career as a professional Republican by working as Northern Virginia field director for Virginia Senator John Warner's re-election campaign from January to May 2002. Warner, who ran without a Democratic opponent that year, won easily.
Kurtz then took a series of political jobs in Wisconsin, where his girlfriend and college classmate, Abby McDermott, was studying Hydrogeology and Water Resources Management in Madison. She earned dual M.S. degrees in those fields in 2004. The couple married in 2012.
Kurtz was a regional field manager for the unsuccessful Scott McCallum for Wisconsin Governor Campaign from May to November 2002; field director for the failed Marcia Hendrickson for Wisconsin State Senate Campaign from February to April 2003; and legislative assistant for Wisconsin State Senator Carol Roessler from August 2003 to July 2004.
Kurtz and McDermott moved to the Washington, DC, area after she graduated the University of Wisconsin. Kurtz took a couple of political jobs. He was Northern Virginia field director for the George W. Bush re-election campaign from August to November 2004, and held the same title in the unsuccessful Jerry Kilgore for Virginia Governor Campaign from January to November 2005.
In 2006, Kurtz took his first job related to housing, serving as special assistant to Assistant HUD Secretary for Community Planning and Development Pamela Patenaude, from March 2006 to November 2007. He then served as special assistant to the deputy chief of staff at HUD from November 2007 to July 2008, and as policy advisor in HUD's Office of Congressional and Intergovernmental Relations from July 2008 to January 2009. During this period, he worked with Brian Montgomery, whom Trump would later tap to become commissioner of the Federal Housing Administration.
Kurtz left his political appointment upon the election of Democrat Barack Obama to the presidency. In June 2009, however, he returned to HUD in a non-political job, working as a community planning and development specialist until June 2015.
Kurtz left federal service to work for the City of Detroit, which had been taken over by state government due to the city's financial problems. Kurtz was deputy director of Detroit's Department of Housing and Revitalization from June 2015 to January 2017, when he returned to HUD.
Hunter Kurtz and his wife, Abby McDermott Kurtz, a manager at Ramboll Environ, an environmental, health and safety consulting firm, have two sons, Liam and Henry.
-Matt Bewig
To Learn More:
President Trump Nominates Robert Hunter Kurtz as PIH Assistant Secretary (Housing Online)