California Forbids U.S. Immigration Agents from Pretending to be Police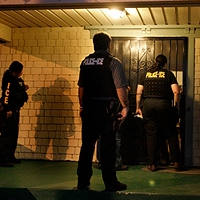 ICE agents at a Los Angeles home to arrest an undocumented immigrant (photo: Allen J. Schaben, Getty Images)
By Derek Fleming, Courthouse News Service
SACRAMENTO, Calif. (CN) – California Gov. Jerry Brown signed a bill Monday barring federal authorities from presenting themselves as law enforcement officers in the Golden State.
Assemblyman Ash Kalra, D-San Jose, wrote the bill, Assembly Bill 1440, in hopes of reducing unethical tactics by federal agents.
The measure clarifies that U.S. Customs and Immigration Enforcement and Customs and Border Protection agents are not licensed peace officers. Reports of ICE and CBP officers portraying themselves as police officers in an effort to force or coerce cooperation from unwilling residents led to the introduction of AB 1440.
"I am pleased that Gov. Brown has signed AB 1440 into law, upholding the trust and faith our local law enforcement work to develop with local communities every day to provide for the public's safety," Kalra said in a statement. "Under the new federal administration, ICE and CBP are undertaking unprecedented and aggressive tactics to identify, monitor, and detain undocumented immigrants for deportation. This bill sends a clear message – that in California, law enforcement officers are sworn to protect all residents, regardless of their immigration status."
According to the Assembly analysis of the bill, it is not uncommon for ICE agents to detain a person on suspicion of immigration status without a warrant. According to the analysis, ICE agents have claimed to be police officers to gain consent to enter a person's home – a tactic that is viewed as unethical, but within the powers granted to the officers.
"Recognizing that federal law pre-empts state law, this bill may be viewed as symbolic. However, as California and the rest of the nation enter into a new reality of aggressive and, at times, deceitful actions undertaken to enforce immigration actions, California must take any and all necessary actions to disassociate the actions of federal ICE agents with those of licensed state and local peace officers," Kalra said.
Civil rights groups supported Kalra's bill, looking to stymie the Trump administration's promise to use any and all available tools to deport undocumented immigrants who have committed crimes. Many groups fear the administration will expand deportations to include all undocumented immigrants, their families and relatives.
"Gov. Brown is sending the right message that these unethical tactics by ICE under the Trump administration will not be tolerated in California," said Christopher Sanchez, policy advocate for the Coalition for Humane Immigrant Rights. "To have ICE deceive our communities that they are police officers only creates greater mistrust between law enforcement and the immigrant community. We applaud the passage of Assembly Bill 1440 as we continue to educate our communities of the deception created by the Trump administration."
Kalra said the training undergone by the state's licensed peace officers and that received by ICE and CBP agents are not equivalent. California peace officers receive a minimum of 664 hours training, while ICE agents receive five weeks of Spanish-language training and an 80-day basic law enforcement class.
To Learn More:
Santa Cruz Police See Homeland Security Betrayal in Use of Gang Roundup as Cover for Immigration Raid (by Matthew Renda, Courthouse News Service)
Big Business Warns Trump of Damage to Economy from Mass Deportations (by Steve Peoples, Associated Press)
Tucson Police Accused of Making Illegal Traffic Stops to Catch Undocumented Immigrants (by Tim Hull, Courthouse News Service)
Donald Trump Has a Plan for Deporting Millions of California Illegal Immigrants (by Ken Broder, AllGov California)
Border Patrol Arrests Extend Hundreds of Miles from Border (by Steve Straehley, AllGov)
Are Local Police Wasting Resources Enforcing Immigration Laws? (by Tyler Schenk-Wasson, AllGov)