Big Business Warns Trump of Damage to Economy from Mass Deportations
Monday, December 12, 2016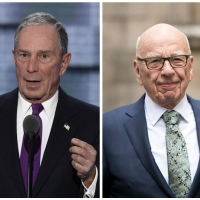 Michael Bloomberg, Rupert Murdoch (photos: Getty Images)
By Steve Peoples, Associated Press
WASHINGTON (AP) — Still grappling with Donald Trump's surprise election, the nation's business community has begun to pressure the president-elect to abandon campaign-trail pledges of mass deportation and other hard-line immigration policies that some large employers fear would hurt the economy.
The push, led by an advocacy group backed by New York billionaire Michael Bloomberg and media mogul Rupert Murdoch, is still in its infancy as the business world struggles to understand the tough-talking Trump's true intentions on an issue that defined his outsider campaign. Some groups, such as the U.S. Chamber of Commerce, are holding off, doubtful that Trump will actually create a deportation force, as he suggested before his election, to expel those estimated 11 million immigrants in the country illegally.
But others are assembling teams of public officials and industry leaders on the ground in key states to encourage Trump to embrace a more forgiving immigration policy — in the name of economic development, if not human compassion.
"This election clearly showed that Americans are wildly frustrated with our broken immigration system," said Jeremy Robbins, executive director of the New American Economy, a group whose board includes Bloomberg, Murdoch and leaders of business giants Marriott, Disney and Boeing. "But it would be a mistake to equate their desire for someone to secure the border with support for mass deportation or other hardline policies that would both devastate the economy and undermine core American values."
Robbins' organization has in recent days unveiled coalitions of business leaders and public officials that oppose an immigration crackdown — many of them Trump supporters — across Utah, California, South Carolina, Florida and Colorado with more coming in Arizona, Idaho, North Carolina, Pennsylvania and Texas. Backed by its directors' deep pockets, the group is working to create a permanent infrastructure that will pressure the new administration and members of Congress in key battlegrounds even before the debate officially begins on Capitol Hill.
Trump railed against the dangers of illegal immigration throughout his campaign, several times sharing the stage with parents of children killed by immigrants in the country illegally. He also pledged to build a massive wall across the vast majority of the 2,100-mile border with Mexico. And, early in the campaign, he promised to create "a deportation force" to remove more than 11 million immigrants, although as Election Day approached, he left open the possibility for a pathway to legal status for some who entered the country illegally.
Trump's transition team declined to answer questions about his immigration plans this week.
He hinted at a softer approach in a Time magazine interview published this week, saying he would "work something out" to help immigrants who were brought to the United States illegally as children and granted work permits by President Barack Obama. On deportation, Trump told "60 Minutes" shortly after the election that he would prioritize deporting between 2 and 3 million "people that are criminal and have criminal records — gang members, drug dealers."
Such a plan would largely be in line with the Obama administration's current policy.
In case Trump does rescind Obama's 2012 Deferred Action for Childhood Arrivals, which has extended work permits and temporary deportation relief for more than 700,000 immigrants brought to the U.S. illegally as children, a bipartisan group of senators is introducing a three-year bill to allow people covered under that program to stay in the country.
His nominee for Labor Secretary, Andrew Puzder, a fast-food restaurant mogul, has supported Republican and Democratic compromise plans on immigration reform. At an American Enterprise Institute forum in 2013, he described a path to legalization for millions of undocumented immigrants in the country as "the right thing to do," according to a video of the event.
That support prompted criticism from anti-immigration groups like NumbersUSA. The group's Roy Beck called Puzder's nomination "disconcerting."
The business world was caught flat-footed when Trump won.
Business leaders had invested far more time coordinating immigration policy with Democrat Hillary Clinton before the election. None of the major players have had regular contact with Trump's transition team since his victory, even though Trump has vowed to make immigration a focus of the early days of his presidency.
"This is going to take a while," said Daniel Garza, executive director for the Koch Brothers-backed LIBRE Initiative, which supports a pathway to citizenship for immigrants in the country illegally and opposes mass deportation. "In the meantime we will make sure our voice is heard."
Trump faces political pressure on both sides. His most passionate supporters are unlikely to accept a Trump administration that embraces big business' softer approach.
"Donald Trump will lose all credibility," said Dan Stein, president of the Federation for American Immigration Reform, a group that pushes for strict immigration policies.
Stein, optimistic that Trump is putting immigration hardliners like Alabama Sen. Jeff Sessions in his Cabinet, said Trump should pursue mass deportations to protect American workers.
"Under Donald Trump, this left-right business coalition thing is not going to work," he said.
Yet business groups note that experts have predicted negative economic consequences should Trump pursue mass deportation. A study released in February by the right-leaning American Action Network found that such a plan could reduce "real GDP by $1 trillion" and cost taxpayers more than $400 billion.
Public opinion appears to be on their side.
While the Pew Research Center found over the summer that eight in 10 Trump supporters want a wall along the U.S.-Mexico border, an October survey found that 60 percent of Trump backers also said immigrants in the country illegally should be able to stay in the U.S. if they meet certain requirements. Roughly one third of Trump supporters said there should be a "national law enforcement effort to deport" all such immigrants.
To Learn More:
California Lawmakers to Enact Sweeping Laws to Resist Trump's Mass Immigrant Deportation Threats (by Jennifer Medina, New York Times)
Mass Deportations Damage U.S. Housing Market by Exacerbating Foreclosures (by Emily Badger, New York Times)
Private Prison Industry May be Big Winner in Trump/Sessions Immigrant Deportation Plans (by Rebecca Boone, Associated Press)
Donald Trump Has a Plan for Deporting Millions of California Illegal Immigrants (by Ken Broder, AllGov California)