U.S. Court Grapples with Abu Ghraib Torture Question: Who Was Responsible—the Torturers or U.S. Military?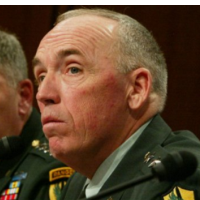 Major General Geoffrey Miller testifies at Abu Ghraib congressional hearing, 2004 (photo: Alex Wong, Getty/AFP)
By Larry O'Dell, Associated Press
RICHMOND, Va. (AP) — A federal appeals court on Thursday explored the question of who was in charge, the U.S. military or civilian interrogators, when four former Iraqi detainees claim they were tortured at the notorious Abu Ghraib prison.
An attorney for the former detainees urged a three-judge panel of the 4th U.S. Circuit Court of Appeals to reinstate their lawsuit against a military contractor, arguing that its employees took advantage of an "absence of command presence" and ordered soldiers to abuse the men to soften them up for questioning.
"The plaintiffs in no way seek to question military judgment," said Baher Azmy, an attorney for the Center for Constitutional Rights who represents the detainees.
John F. O'Connor, an attorney for the military contractor, said this is the first injury lawsuit he has seen that does not go after the people who actually inflicted the injuries — in this case, the soldiers, including some who were court-martialed. He said U.S. District Judge Gerald Bruce Lee did the right thing when he threw out the lawsuit.
The former detainees sued Arlington-based CACI Premier Technology Inc. in 2008. They claim employees of the company, which was hired to conduct interrogations at the U.S. prison in Iraq, conspired to have soldiers torture them. The plaintiffs say they were subjected to electrical shocks, sexual violence and forced nudity, and were deprived of food, water and oxygen.
Lee dismissed the lawsuit last June, ruling that the military controlled CACI's actions. He said the lawsuit was barred by the "political question doctrine," which prevents federal courts from deciding issues that the Constitution assigns to political branches. The former detainees appealed.
In the appeals court hearing, Judge Barbara Milano Keenan asked O'Connor why the private contractor should get more protection than the military for clear violations of laws against torture. "Isn't there a disconnect there?" she asked.
O'Connor said there was not. Prosecutors could have pursued criminal charges against the civilian interrogators had they found any credible evidence against them, O'Connor said.
Azmy countered that because the lawsuit alleges a conspiracy, the detainees do not have to show that CACI's employees personally inflicted the abuse.
In 2004, photos depicting soldiers abusing Abu Ghraib detainees became public, shocking the national conscience and producing "universal condemnation among U.S. political and military leaders," Azmy's clients say in court papers.
The appeals court typically takes several weeks to issue a decision.
To Learn More:
Accused Torture Contractor Sues Abu Ghraib Torture Victims (by Noel Brinkerhoff, AllGov)
U.S. Security Company Seeks Dismissal of Abu Ghraib Torture Charges because Victims were not Allowed to Leave Iraq (by Noel Brinkerhoff and David Wallechinsky, AllGov)
Private Contractor Torture Cases Given Go-Ahead by Federal Court (by Noel Brinkerhoff, AllGov)