U.S. Army Finally Agrees to Let Sikh Officer Wear Contested Turban and Beard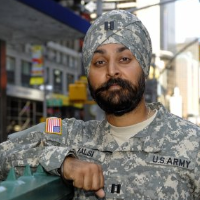 U.S. Army Captain Simratpal Singh (photo: Timothy A. Clary, AFP/Getty Images)
By Allan Turner, New York Times
Simratpal Singh, a West Point-trained U.S. Army captain who for 10 years served bare-headed and clean-shaven, will be allowed to wear a religiously mandated turban and beard, Assistant Secretary of the Army Debra Wada said.
As a Sikh, Singh, 28, is required to wear a beard and turban. "My two worlds are one again," he told reporters after the Army agreed to his requests.
Wada, though, told Singh, who received a Bronze Star for service in Afghanistan, that certain conditions will apply.
While Singh will be allowed to wear a black or camouflage color turban, the headgear must not interfere with the wearing of a properly fitting helmet.
"Your beard," Wada wrote in a letter to Singh released by the Army, "must be rolled and tied to a length not to exceed 2 inches while in garrison and a length not to exceed 1 inch while in the field. Your hair may not fall over your ears or eyebrows or touch the collar of your uniform."
Singh may display his rank on his turban, "provided you remove the rank in circumstances where military headgear is not customarily worn," Wada wrote.
Additionally, Wada advised, Singh's commanders will be required to submit quarterly evaluations on the impact - if any - that the officer's hair and attire has on "unit cohesion and morale, good order and discipline, health and safety and individual and unit readiness."
Singh, an Indian native whose parents immigrated to the U.S. when he was 9, told the New York Daily News that support from his fellow soldiers eased his quest to wear a turban and beard.
"The U.S.," he told the newspaper, "was the only country that gave (my father) political asylum. I was and still am extremely grateful for that, and so I wanted to give back and do military service."
The U.S. is home to approximately 500,000 Sikhs, a monotheistic religion that originated in India's Punjab region in the 15th century.
To Learn More:
Judge Blocks Defense Dept. Gas-Mask Test for Sikh U.S. Army Officer as Discriminatory (by Jeff D. Gorman, Courthouse News Service)
After Serving in the Navy for 12 Years, Sailor Booted for Refusing to Cut her Hair (by Steve Straehley, AllGov)
Army Allows Sikh Doctor to Wear Beard and Turban (by Noel Brinkerhoff, AllGov)
Sikh Police Ask for Development of Bulletproof Turbans (by Noel Brinkerhoff, AllGov)