After Serving in the Navy for 12 Years, Sailor Booted for Refusing to Cut her Hair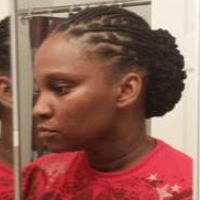 Jessica Sims
A 12-year veteran has decided she'd rather leave the Navy than cut her hair or wear a wig as demanded by a new supervisor.
Hospital Corpsman 2nd Class Jessica Sims was by all accounts an exemplary sailor. She had been an instructor at Navy medical schools for the last several years and had kept her hair in natural locks with a bun for most of that time, as did other African-American female sailors at her duty stations.
She applied to become a recruit division commander at Recruit Training Command Great Lakes, where all prospective sailors go for initial training. Only the best sailors are considered for that billet and Sims was accepted into the program after submitting a picture that showed her hairstyle.
When she got to the base, however, she was ordered to cut her hair or wear a wig. Sims refused, saying that Navy regulations didn't forbid her hairstyle and that she'd worn it at previous duty stations without drawing complaints. Navy regulations do prohibit "widely spaced individual hanging locks," but Sims says her locks were narrowly spaced. Sims also said another objection, that she couldn't wear a gas mask, was unfounded.
Sims says Navy regulations are biased against African-American women's hairstyles. "I don't think I should be told that I have to straighten my hair in order to be within what they think the regulations are, and I don't think I should have to cover it up with a wig," she told Navy Times.
The Navy disagreed, and Sims was scheduled to be honorably discharged last week. While the Navy is losing an experienced corpsman, the medical community as a whole may benefit. Sims is preparing to enroll at Loyola University in Chicago, where she'll major in biology in preparation for medical school.
-Steve Straehley
To Learn More:
Officials Decide To Boot HM2 For Her Locks (by Meghann Myers, Navy Times)
Navy Reconsiders Booting Corpsman Over Hairstyle (by Meghann Myers, Navy Times)