Suspicions Arise over Accuracy of Pentagon Assessments of War on ISIS after Insiders Complain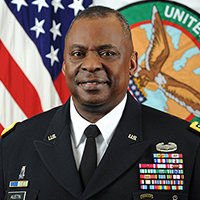 CENTCOM Commander General Lloyd J. Austin III
The Department of Defense's internal watchdog is now investigating whether military officials have altered intelligence reports on the war against ISIS in Iraq.
The New York Times learned that the Pentagon's inspector general is checking on intelligence assessments coming out of United States Central Command (CENTCOM), the military headquarters overseeing the American bombing campaign and other efforts against the Islamic State.
Suspicions arose after at least one civilian Defense Intelligence Agency (DIA) analyst claimed to have evidence that officials at CENTCOM "were improperly reworking the conclusions of intelligence assessments prepared for policy makers, including President Obama," the Times' Mark Mazzetti and Matt Apuzzo reported.
The story added that the possibility of "skewed intelligence" could "help explain why pronouncements about the progress of the campaign have varied widely." For instance, retired General John Allen, who serves as Obama's top envoy consulting with other nations in the fight against ISIS, last month told the Aspen Security Forum that the momentum of the terror organization had been "checked strategically, operationally, and by and large, tactically." He added: "ISIS is losing."
But Defense Secretary Ashton B. Carter last week wasn't so rosy with his assessment of the war, calling it "difficult" and that "it's going to take some time."
Indeed, classified intelligence assessments "conclude that the yearlong campaign has done little to diminish the ranks of the Islamic State's committed fighters, and that the group over the last year has expanded its reach into North Africa and Central Asia," wrote Mazzetti and Apuzzo, citing information from officials who have access to those assessments.
In the end, Carter rallied to put a positive spin on his outlook: "I'm confident that we will succeed in defeating ISIL and that we have the right strategy."
In terms of the claim made by the DIA analyst, retired senior CIA analyst Paul Pillar shed some light on the atmosphere at the agency. "There's a built-in tension for the people who work at D.I.A., between dispassionate analysis and what command wants," he told the Times. "You're part of a large structure that does have a vested interest in portraying the overall mission as going well."
-Noel Brinkerhoff, Danny Biederman
To Learn More:
Inquiry Weighs Whether ISIS Analysis Was Distorted (by Mark Mazzetti and Matt Apuzzo, New York Times)
Defense Dept. Inspector General Criticized as Worse than Useless (by Steve Straehley, AllGov)