Defense Dept. Inspector General Criticized as Worse than Useless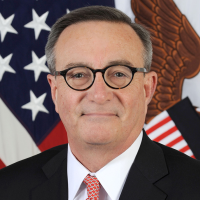 Jon Rymer
The Special Inspector General for Afghanistan Reconstruction (SIGAR) has done his job well. John Sopko and his group have saved taxpayers hundreds of millions of dollars, referred companies and individuals that have committed contracting violations and pointed out many examples of government waste. No wonder then that the federal government would attempt to supplant SIGAR with an authority that doesn't work nearly as well.
The Lead Inspector General for Overseas Contingency Operations, which comprises the inspectors general for the Department of Defense (DOD), the State Department and the U.S. Agency for International Development (USAID), became the primary agency for investigating fraud and waste in Afghanistan thanks to a provision in the 2013 National Defense Authorization Act, inserted by Senators Claire McCaskill (D-Missouri) and Jim Webb (D-Virginia). This group, led by DOD Inspector General Jon Rymer, put together a report (pdf) for Congress that has many attractive photos and facts about the mission in Afghanistan, but information on only eight issues that require attention, and even those are provided with a notation that the "October 2015 Lead IG biannual report will provide details of these and other reports."
In contrast, SIGAR's quarterly report (pdf) details 21 audits, inspections, alert letters, and other reports, and savings of $214.7 million for U.S. taxpayers.
The Lead Inspector General for Overseas Contingency Operations' reports are so lacking in content that Anthony H. Cordesman of the Center for Strategic and International Studies compares the group to Monty Python's "Ministry of Silly Walks."
"As for the military content, the report serves no known purpose and has almost no meaningful content," Cordesman wrote. "The Lead Inspector General for Overseas Contingency Operations does not come close to dealing with any of the issues and problems raised in the Department of Defense's semi-annual report on the war—the Report on Enhancing Security and Stability in Afghanistan." The inaugural version of this report was released to Congress on June 16.
Cordesman drew a scathing comparison between that report and SIGAR's. "It will take you no more than 15 minutes of comparing the Lead Inspector General for Overseas Contingency Operation's Quarterly Report to the report by SIGAR to see just how empty and totally vacuous the work by the Lead Inspector General for Overseas Contingency Operations really is."
He added that the Lead IG report "reads more like a public relations exercise than anything else. It also follows a pattern within the Executive Branch of steadily reducing reporting that has any negative content…"
There is hope that SIGAR will once again become the lead agency for investigating where U.S. tax dollars are going in Afghanistan. The Project on Government Oversight has supported an amendment to the National Defense Authorization Act for Fiscal Year 2016 that would ensure SIGAR isn't crowded out.
This isn't the first time the executive branch has tried to mess with SIGAR. Earlier this year, the State Department ordered SIGAR to cut its staff by 40%. When word reached the media, the State Department backed down.
-Steve Straehley
To Learn More:
Preventing a New Chapter of "Vacuous" Oversight (by Michael Smallberg and Mandy Smithberger, Project on Government Oversight)
The Afghan War and the Quarterly Report on Freedom's Sentinel (by Anthony H. Cordesman, Center for Strategic and International Studies)
U.S. Cuts back its Watchdogs after Billions Lost and Billions More to be spent on Escalating Afghanistan War (by Noel Brinkerhoff and Steve Straehley, AllGov)
What Happened to $1.3 Billion of Taxpayer Money Sent Directly to U.S. Military Officers in Afghanistan? Pentagon won't Say (by Steve Straehley, AllGov)