States and Tribes Bracing for Emergence of Toxic Metals from Rivers Contaminated by EPA Mishap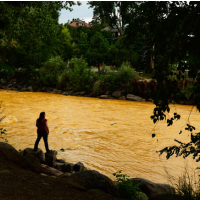 The contaminated Animus River (photo: Brent Lewis, Denver Post via Getty Images)
By Dan Elliott, Associated Press
DENVER (AP) — States and Indian tribes said Thursday they are getting ready in case runoff from melting snow stirs up potentially toxic metals in two rivers after a massive spill from a Colorado mine last August.
More than two dozen state, tribal and local agencies said they will monitor the Animas and San Juan rivers in Colorado, New Mexico and Utah at about 18 sites.
It isn't clear yet what effect the spring and summer runoff will have on any metals that settled to the bottom of the rivers after the spill.
Snowpack in the Colorado mountains that feed the Animas — which joins the San Juan in New Mexico — was 81 percent of the long-term average Thursday. Kevin Houck of the Colorado Water Conservation Board said he didn't expect a higher-than-normal runoff.
That could change if spring snows are heavy, Houck said, adding that the outlook will become clearer next month.
A crew led by the U.S. Environmental Protection Agency inadvertently triggered the 3 million-gallon spill at the inactive Gold King Mine Aug. 5 during preliminary cleanup work.
The EPA estimates the spill sent 880,000 pounds of metals into the rivers, and some settled into the sediment on the bottom.
The metals included arsenic, cadmium, copper, lead, mercury, nickel and zinc. Water utilities briefly shut down their intake valves and farmers stopped drawing from the rivers. The EPA says the water quality quickly returned to pre-spill levels.
Colorado, New Mexico and Utah joined with the Navajo, Southern Ute and Ute Mountain Ute tribes — whose land is crossed by the rivers — to compile a plan to monitor the waterways and some wells. They will also test the sediment in the delta where the San Juan empties into Lake Powell, the massive reservoir in southern Utah and northern Arizona.
They said they will share their data and will train first-responders and water users about what to do in the event of a flood or other emergency.
Cities, counties, health departments and water districts along the rivers are also participating in the preparations.
Separately, the EPA released an updated plan Thursday for its own water-quality monitoring to last at least through August.
The agency said it planned to monitor 30 river locations in the three states. At least some of those sites appeared to be the same ones the states will monitor.
The EPA is considering whether to designate the area around the Gold King Mine as a Superfund site, which would free up millions of dollars in federal aid for a broad cleanup.
The area under consideration includes 48 mining sites that release a total of about 5.4 million gallons of acidic mine waste every day, the EPA said.
To Learn More:
Utah Taking Legal Action Against EPA Over Mine Waste Spill (by Lindsay Whitehurst, Associated Press)
880,000 Pounds of Metals Landed in Animas River from EPA-Triggered Colorado Mine Spill (by Dan Elliott, Associated Press)
After Toxic Spill in Colorado River, Mining Companies Avoid Responsibility for Cleanup Thanks to Outdated 1872 Law (by Noel Brinkerhoff and Steve Straehley, AllGov)
Oops…EPA Causes 3 Million-Gallon Wastewater Release into River (by Noel Brinkerhoff and Danny Biederman, AllGov)
Private Contractor Conducting Work that Led to Toxic Waste Spill in Colorado River has Received more than $350 Million in Federal Contracts (by Noel Brinkerhoff and Steve Straehley, AllGov)