Private Contractor Conducting Work that Led to Toxic Waste Spill in Colorado River has Received more than $350 Million in Federal Contracts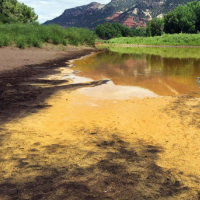 Animas River receding to reveal a layer of sludge (photo: Jerry McBride, Durango Herald-AP)
The story of millions of gallons of mining waste being released into a Colorado river has shifted in focus from federal regulators overseeing the operation to the private contractor hired to do the work.
When 3 million gallons of heavy-metal laced water first poured from the Gold King mine into the Animas River, it was the U.S. Environmental Protection Agency (EPA) in the spotlight. Now, it has come out that those working at the mine when the waste poured out worked for Environmental Restoration LLC, based in Missouri.
Environmental Restoration frequently contracts for the EPA, collecting more than $350 million in business from the agency. It has worked on major environmental cleanups, including the 2010 Deepwater Horizon spill in the Gulf of Mexico and the pipeline break into the Kalamazoo River. The company also has done work for the departments of Transportation and Homeland Security, collecting another $17 million.
The EPA has not publicly blamed the company for the Gold King accident.
Kate Zimmerman, the public lands policy director at the National Wildlife Foundation, told the St Louis Post-Dispatch that it's hard to tell which entity is responsible for the spill. "EPA is technically responsible in that they were the ones to touch it last," Zimmerman said. "But this was sort of a disaster that's been waiting to happen up there."
Experts said Thursday that it will take several years and millions of dollars to clean up the mess, according to Jacob Barker of the Post-Dispatch.
-Noel Brinkerhoff, Steve Straehley
To Learn More:
Fenton Firm, Top EPA Cleanup Contractor, Now in Spotlight after Colorado Spill (by Jacob Barker, St. Louis Post-Dispatch)
Environmental Restoration Identified as Crony Contractor for EPA Colorado Spill
(by Lorraine Yapps Cohen, Examiner.com)
Oops…EPA Causes 3 Million-Gallon Wastewater Release into River (by Noel Brinkerhoff and Danny Biederman, AllGov)