After Toxic Spill in Colorado River, Mining Companies Avoid Responsibility for Cleanup Thanks to Outdated 1872 Law
Wednesday, August 19, 2015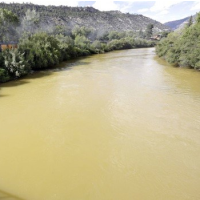 Animas River (photo: Jerry McBride, AP)
The Animus River mine waste spill has drawn attention to a loophole in federal law that dates to the 1800s and has allowed mining companies to avoid paying to clean up the mess they leave behind.
The Gold King mine, which was the source of the 3 million gallons of orange toxic waste that spilled into the Animus River in Colorado, is just one of half a million abandoned and inactive hardrock mines in the U.S., according to the environmental group Earthworks. But the government can't force the companies that operated these mines to pay because of the 1872 Mining Law (pdf), which allows corporations to mine for minerals on public lands but does not require them to pay to restore the land once they're done with it.
"Under this outdated law, mining companies are able to extract billions of dollars of minerals on America's public lands essentially for free, often with no liability for environmental cleanup," Claire Moser, research and advocacy associate with the public lands team at the Center for American Progress, told ClimateProgress. "The Animas spill disaster highlights the broader need for reform of this 143-year-old law to ensure that taxpayers receive a fair share of publicly-owned resources and that mining companies are responsible for cleanup."
One congressman is trying to change this. Rep. Raul Grijalva (D-Arizona) has introduced HR 963, the Hardrock Mining Reform and Reclamation Act of 2015, which would charge the mining industry a reclamation fee that would generate $200 million annually for abandoned mine restoration.
Don't hold out too much hope that Grijalva's bill will advance, though. A similar effort in 2007 passed the House but couldn't get through the Senate, according to the Christian Science Monitor. The 2015 version has no Republican co-sponsors, making it an unlikely candidate to advance through the GOP-controlled Congress.
Earthworks estimates it will take $32 billion to $72 billion to clean up all such abandoned hardrock mines in the United States. Congress, using figures from the Environmental Protection Agency, puts the range at a still-enormous $20 billion to $54 billion.
-Noel Brinkerhoff, Steve Straehley
To Learn More:
The Real Culprit in the Animas River Spill (by Lauren Pagel, CNN)
Colorado River Spill: Fixing the 1872 Law That Haunts Thousands of Old Mines (by Brad Knickerbocker, Christian Science Monitor)
The Outdated Law That Helped Lead To The Massive Mine Spill In Colorado (by Katie Valentine, ClimateProgress)
General Mining Law of 1872 (Earthworks)
Oops…EPA Causes 3 Million-Gallon Wastewater Release into River (by Noel Brinkerhoff and Danny Biederman, AllGov)
Private Contractor Conducting Work that Led to Toxic Waste Spill in Colorado River has Received more than $350 Million in Federal Contracts (by Noel Brinkerhoff and Steve Straehley, AllGov)