Should Gun Buyers be Subjected to Same Scrutiny as Abortion Seekers?
Saturday, December 12, 2015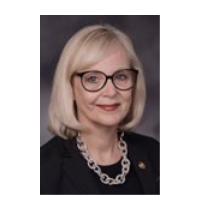 State Representative Stacey Newman (D)
A Missouri legislator wants gun buyers to be subjected to the same restrictions as those seeking abortions.
Democratic State Representative Stacey Newman introduced House Bill 1397 (pdf), which would require anyone buying a gun to complete a checklist of requirements, just like women have to do under state law before aborting a pregnancy.
Her proposal would mandate gun purchasers talk to a doctor about the risks of gun ownership at least 72 hours before trying to buy a firearm. They also would have to watch a 30-minute video on fatal gun injuries.
Additionally, the bill states gun buyers would have to:
--Learn about alternatives to buying a gun, including materials "about peaceful and nonviolent conflict resolutions."
--Verify in writing that they toured an emergency trauma center on a weekend between the hours of 10 p.m. and 6 a.m., "when gun violence victims are present."
--Meet within 72 hours of purchasing a firearm "at least two families who have been victims of violence involving a firearm and two local faith leaders who have officiated, within the past year, a funeral of a victim of violence involving a firearm who was under the age of eighteen."
Newman's plan is based on Missouri law that requires women who want an abortion to wait 72 hours, consult with two physicians, sign an informed consent form, be asked to view an active ultrasound and listen to the fetal heartbeat, if audible.
"If we truly insist that Missouri cares about 'all life,' then we must take immediate steps to address our major cities' rising rates of gun violence," Newman said in a statement. "Popular proposals among voters, including universal background checks and restricting weapons from abuser and convicted felons, are consistently ignored each session. Since restrictive policies regarding a constitutionally protected medical procedure are the GOP's legislative priority each year, it makes sense that their same restrictions apply to those who may commit gun violence. Our city mayors and law enforcement drastically need help in saving lives."
Newman is realistic about her bill's chances of even getting a hearing, however. "I'm in the minority in the Missouri state legislature," she explained to Esquire. "I'm in my seventh year, and I can count on one hand the number of bills I've filed that have even been granted a public hearing. So no, I'm very realistic, I don't expect any of my bills to actually pass."
-Noel Brinkerhoff, Steve Straehley
To Learn More:
Missouri Gun Bill Echoes Abortion Limits (by Deb Hipp, Courthouse News Service)
What If Gun Laws Mirrored the Strictest Abortion Laws? (by Luke O'Neil, Esquire)
Missouri Firearms Bill Would Make Guns as Difficult to Access as Abortions (by Lindsay Toler, St. Louis Magazine)
House Bill No. 1397 (Missouri House of Representatives) (pdf)
State Abortion Restriction Laws have Averaged almost One a Week Since 2010 (by Noel Brinkerhoff and Steve Straehley, AllGov)
In Reverse Religious Challenge to Missouri Abortion Law, Satanist Challenges Mandatory Waiting Period (by Steve Straehley, AllGov)
Republican State Legislators Pass 40 Laws Restricting Abortion in First Half of 2013 (by Matt Bewig, AllGov)