Republican State Legislators Pass 40 Laws Restricting Abortion in First Half of 2013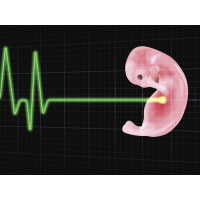 (graphic: onenewsnow.com)
Although national leaders of the GOP have been attempting to "rebrand" their party by emphasizing economic opportunity and downplaying social issues like marriage equality and abortion, Republican state legislators must have missed the memo. Since the beginning of the year, Republicans have spearheaded the passage of at least 40 new state laws intended to restrict access to abortion, including mandatory ultrasounds for pregnant women and expensive new regulations for clinics.
Most recently, Republican Gov. Scott Walker of Wisconsin signed a bill Friday requiring physicians who perform abortions to get hospital admitting privileges immediately and forcing women seeking abortions to first get an ultrasound. Wisconsin is the 16th state to mandate admitting privileges or the equivalent and the 22nd to force ultrasounds on women.
Alleging that the new clinic regulations will force two of the state's four abortion clinics to close and one to cut services by at least half, the clinic operators, including Planned Parenthood of Wisconsin (PPW), immediately sued state officials in federal court to block the measure. U.S. District Judge William Conley, appointed by President Barack Obama in 2010, may decide to block the new rules temporarily before they go into effect July 8, just as other judges have done in Alabama, Mississippi and Kansas with laws purporting to mandate admitting privileges.
Although advocates of such restrictions claim that measures like mandating admitting privileges or applying standards meant for ambulatory surgical centers to abortion clinics are intended to ensure quality health care, none of them are endorsed as necessary by the relevant medical authorities. Instead, argues PPW CEO Teri Huyck, women will be less safe because abortion will be less accessible. "When women don't have access to safe, legal abortions, there are health consequences and women die," she said.
Other states whose legislatures have passed anti-abortion laws recently include North Carolina, where the state Senate adopted a bill that bans sex-selective abortions, bars abortion coverage in insurance on the state's health exchange, and requires clinics be held to the standards written for ambulatory surgical centers and have a transfer agreement with a local hospital.
In Texas, Gov. Rick Perry was forced to call a second special legislative session to consider a bill like North Carolina's, because Democrats successfully filibustered it to death in late June, while in Ohio Gov. John Kasich signed several new abortion restrictions into law while surrounded by an all-male group of legislators.
-Matt Bewig
To Learn More:
Scott Walker Signs Abortion Bill; Providers Quickly Sue (by Patrick Marley, Milwaukee Journal Sentinel)
Abortion Limits at State Level Return Issue to the National Stage (by Juliet Eilperin, Washington Post)
Last Few Alabama Abortion Clinics May Close under New State Law (by Noel Brinkerhoff, AllGov)
North Dakota Beats Arkansas for Most Extreme Anti-Abortion Bill (by Matt Bewig, AllGov)
Arkansas Set to Impose Nation's Most Restrictive Abortion Law (by Noel Brinkerhoff, AllGov)