In Reverse Religious Challenge to Missouri Abortion Law, Satanist Challenges Mandatory Waiting Period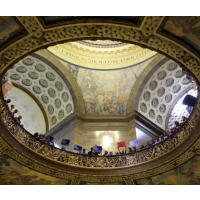 Abortion rights activists protest inside Missouri Capitol building (photo: Jeff Roberson, AP)
A pregnant Missouri woman seeking an abortion is fighting the mandatory three-day waiting period imposed by that state's Republican-dominated legislature. Her argument uses one of the right wing's favorite claims—the violation of her sincerely held religious beliefs.
"Mary Doe," a mechanic and self-proclaimed member of The Satanic Temple, has sued Missouri Governor Jay Nixon and Attorney General Chris Koster for injunctive relief from the law. On the basis of her religious beliefs, according to the court filing, her non-viable fetus is "tissue"; her "body is inviolable and subject to her will alone"; her "inviolable body includes the tissue"; and that "(s)he alone decides whether to remove the tissue from her inviolable body."
The Religious Freedom Restoration Act, under which Hobby Lobby argued (pdf) it should be allowed to exempt itself from some provisions of the Affordable Care Act because of its owners' religious beliefs, is being cited by Doe in her case.
"The State of Missouri would like that tissue to be a human being, but it is not in a legal sense," W. James Mac Naughton, an attorney representing The Satanic Temple, who is backing Doe's lawsuit, told Courthouse News. "The Supreme Court said so."
Satanic Temple spokesman Doug Mesner, writing under the pen name Lucien Greaves, posted "the 72-hour waiting period — itself a burden upon our religious belief in the freedom to make decisions 'voluntarily, without coercion and in an informed manner' — is moot and without justification. As the Supreme Court's Hobby Lobby ruling affirmed (in upholding Hobby Lobby's right to believe that certain pharmaceuticals are abortifacients when, in fact, they are not) scientific legitimacy (or lack thereof) can be a matter for personal religious opinion to decide."
"The potential is for this case to be a lot broader than Missouri," Doe's attorney, Ronald Eisenberg, told Courthouse News. "Many states have 24-hour waiting periods and five states have 72-hour waiting periods. I can envision similar suits being brought elsewhere."
-Steve Straehley
To Learn More:
Missouri's Abortion Waiting Period Challenged on Religious Grounds (by Joe Harris, Courthouse News Service)
The Satanic Temple Just Filed a Lawsuit Against Abortion Restrictions (by Lucien Greaves, Orlando Weekly)
Satanists Crowd-Fund Campaign to Get Missouri Woman an Abortion (by Danny Wicentowski, Riverfront Times)