State Abortion Restriction Laws have Averaged almost One a Week Since 2010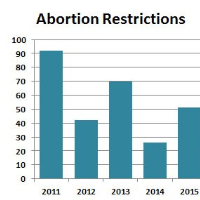 (graphic: Steve Straehley, AllGov)
Abortion opponents have been busy over the past five years adopting restrictions on the procedure at the state level.
The Guttmacher Institute reports state legislatures have passed 282 laws restricting abortions since 2010, an average of about one a week. Fifty-one new restrictions have gone into effect this year alone. Five of the new restrictions either imposed or increased time women must wait between their first contact with a clinic and their procedure.
Arkansas and Tennessee now require a 48-hour wait between counseling and the abortion procedure. North Carolina and Oklahoma are forcing women to wait at least 72 hours, joining Missouri, South Dakota and Utah in requiring women to wait at least three full days for an abortion. Florida lawmakers approved a 24-hour waiting period that was supposed to go into effect Wednesday, but a court ordered an injunction to temporarily halt enforcement of the law.
Other restrictions include restricting abortion via medication and Targeted Regulation of Abortion Providers (TRAP) laws that mandate special building codes and requirements that abortion providers have admitting privileges at nearby hospitals, restrictions that don't apply to other surgical centers.
-Noel Brinkerhoff, Steve Straehley
To Learn More:
Laws Affecting Reproductive Health and Rights: State Trends at Midyear, 2015 (Guttmacher Institute)
Abortions Down Across U.S….Except in Michigan and Louisiana: Here's Why (by Noel Brinkerhoff and Steve Straehley, AllGov)
Republican Dissent Killed Controversial House Abortion Bill, but Clones Emerge in State Legislatures (by Steve Straehley, AllGov)