Racial Bias Seen in Proliferation of Republican-Led Voting Restrictions across U.S.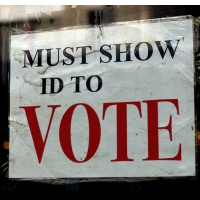 By Michael Wines, New York Times
SPARTA, Ga. — When the deputy sheriff's patrol cruiser pulled up beside him as he walked down Broad Street at sunset last August, Martee Flournoy, a 32-year-old black man, was both confused and rattled. He had reason: In this corner of rural Georgia, African-Americans are arrested at a rate far higher than that of whites.
But the deputy had not come to arrest Flournoy. Rather, he had come to challenge Flournoy's right to vote.
The majority-white Hancock County Board of Elections and Registration was systematically questioning the registrations of more than 180 black Sparta citizens — a fifth of the city's registered voters — by dispatching deputies with summonses commanding them to appear in person to prove their residence or lose their voting rights. "When I read that letter, I was kind of nervous," Flournoy said in an interview. "I didn't know what to do."
The board's aim, a lawsuit later claimed, was to give an edge to white candidates in Sparta's municipal elections — and that November, a white mayoral candidate won a narrow victory.
"A lot of those people that was challenged probably didn't vote, even though they weren't proven to be wrong," said Marion Warren, a Sparta elections official who documented the purges and raised an alarm with voting-rights advocates. "People just do not understand why a sheriff is coming to their house to bring them a subpoena, especially if they haven't committed any crime."
The county attorney, Barry A. Fleming, a Republican state representative, said in an interview that the elections board was only trying to restore order to an electoral process tainted earlier by corruption and incompetence. The lawsuit is overblown, he suggested, because only a fraction of the targeted voters were ultimately scratched from the rolls.
"The allegations that people were denied the right to vote are the opposite of the truth," he said. "This is probably more about politics and power than race."
But the purge of Sparta voters is precisely the sort of electoral maneuver that once would have needed Justice Department approval before it could be put in effect. In Georgia and all or part of 14 other states, the 1965 Voting Rights Act required jurisdictions with histories of voter discrimination to receive so-called preclearance before changing the way voter registration and elections were conducted.
Three years ago, the Supreme Court declared the preclearance mandate unconstitutional, saying the blatant discrimination it was meant to prevent was largely a thing of the past.
But since the Supreme Court's 5-to-4 ruling in the voting-rights case, Shelby County v. Holder (pdf), critics argue, the blatant efforts to keep minorities from voting have been supplanted by a blizzard of more subtle changes. Most conspicuous have been state efforts such as voter ID laws or cutbacks in early voting periods, which critics say disproportionately affect minorities and the poor. Less apparent, but often just as contentious, have been numerous voting changes enacted in counties and towns across the South and elsewhere around the country.
They appear as Republican legislatures and election officials in the South and elsewhere have imposed statewide restrictions on voting that could depress turnout by minorities and other Democrat-leaning groups in a crucial presidential election year. Georgia and North Carolina, two states whose campaigns against so-called voter fraud have been cast by critics as aimed at black voters, could both be contested states in autumn's presidential election.
Kristen Clarke, the president of the Lawyers' Committee for Civil Rights Under Law, a leading voting-rights advocacy group, said that before the Supreme Court's Shelby County ruling, discriminatory laws and procedures had been blocked by the preclearance provisions.
Now, she said, "We're seeing widespread proliferation of these laws. And we are left only with the ability to mount slow, costly case-by-case challenges" to their legality.
Conservative critics of the Voting Rights Act say that is as it should be — that the federal government has no business usurping the role of elections monitor that citizen advocates have long and effectively played in other states. "Now every jurisdiction in the country must be treated equally in our courts when election issues are at stake," said Edward Blum, the director of the Project on Fair Representation, a nonprofit legal program.
The local voting changes have often gone unnoticed and unchallenged. A June survey by the NAACP found that governments in six former preclearance states have closed registration or polling places, making it harder for minorities to vote. Local jurisdictions in six more redrew districts or changed election rules in ways that diluted minorities' votes.
Alabama moved last year to close 31 driver's license offices, almost all in rural areas with large African-American populations, as a cost-saving measure. After lawsuit threats and complaints that the closures would severely curtail local voter registration, the state chose to open the offices at least one day a month. Gov. Robert J. Bentley, a Republican, has strongly denied that the closings were racially motivated.
In Hernando County, Florida; Cleveland and Watauga counties in North Carolina; Baldwin County, Alabama; and elsewhere, elections officials eliminated or moved polling places in largely minority districts; a state court overturned the Watauga County closure.
The Republican majority in North Carolina's General Assembly redrew the political districts last year in Wake County, whose main city is Raleigh, concentrating black voters in the city center into a single voting district. (A three-judge panel of the 4th U.S. Circuit Court of Appeals on Friday ruled that map unconstitutional). In Pasadena, Texas, officials eliminated two District Council seats in largely Hispanic areas in 2014 and replaced them with at-large seats chosen largely by white voters. Hispanic voters have filed a federal lawsuit seeking to undo the change.
In Georgia's Macon-Bibb County in February, the elections board moved a polling place in a predominantly black neighborhood from a gymnasium that was being renovated to the county sheriff's office. Officials changed the location to a church after a petition drive legally forced a reversal.
While those changes took place in states that once were wholly or partly under Justice Department supervision, other restrictions have been adopted by mostly Republican legislatures and election officials in states never cited for voting discrimination. Wisconsin's unusually stringent photo ID law is the object of a federal lawsuit. A South Dakota county is in litigation over equal access to its polling places for Native Americans.
The effect on voter turnout is impossible to measure, but Clarke of the Lawyers' Committee offers one barometer: So far in the 2016 primary election cycle, an election hotline run by the committee and others has fielded more than 22,000 questions and complaints from voters.
That is more than 10 times the number received by this point in 2012, although those presidential primary contests were considerably less pitched than the current ones.
Georgia has seen a litany of changes in — and challenges to — voting procedures since the Shelby County decision. A federal lawsuit accuses that state of illegally purging its voter rolls; in a recent two-year period, the 372,000 voters scrubbed from the rolls exceeded the number of new voters who were added. The chief elections official, Secretary of State Brian P. Kemp, has called the suit frivolous.
Kemp, a Republican who has crusaded against what he called the threat of voter fraud, has investigated voter-registration drives by Asian-American and predominantly black groups. The latest, a 2014 criminal inquiry into a group that had registered 85,000 new voters, many of them minorities, found problems with only 25 of the registrants, and no charges were filed.
Several counties have been sued over redistricting plans that dilute minority voting influence.
But perhaps none of the battles is more striking than the one in Hancock County, about 100 miles southeast of Atlanta, where 3 in 4 of the roughly 10,000 residents are black. The racial divide here is deep and prolonged; the white mayor of the county seat, Sparta, made headlines in 1970 after responding to black citizens' school-desegregation protests by equipping the town's six-member police force with submachine guns.
By the 1990s, the Justice Department had invoked its preclearance authority to block measures that it said would weaken minority representation on the Sparta City Council, but political control of the county was frequently split. By last year, black politicians ran Sparta, a white majority controlled the Hancock County commission, and a furious contest was underway between black and white slates to control the next Sparta administration.
The five-member Hancock County Board of Elections and Registration was controlled by three white members — the chair, appointed by a local judge, and two members appointed by the Hancock County Republican Committee — one of whom, curiously, is a Democrat. According to documents filed in a federal lawsuit in nearby Macon, the board began taking steps last August that seemed destined to tilt the playing field to the white slate's advantage.
The board first proposed to close all but one of the county's 10 polling places, a move the NAACP and other minority advocates argued would disenfranchise rural black people who could not travel long distances to vote. Board members eventually chose to eliminate just one predominantly black precinct. But around the same time, they began to winnow the county's roll of registered voters, ordering an aide to compare the registrants' stated addresses with those on their driver's licenses to spot voters who had moved after registering to vote.
By October, a month before the city election, the board and a private citizen who appears to have worked with its white members had challenged the legality of 187 registered voters in Sparta. The board removed 53 of them, virtually all African-Americans — roughly 1 of every 20 voters. As a "courtesy," court papers state, county sheriff's deputies served summonses on the targeted voters, commanding them to defend themselves at election board meetings.
Some did, and were restored to the rolls. Others reacted differently to a police officer's knock on their door.
"A lot of voters are actually calling to say they no longer wish to be on the list, so now we have people coming off the list who no longer want to vote," Tiffany Medlock, the elections supervisor for the Hancock County elections board, told a Macon television reporter in late September. "It'll probably affect the City of Sparta's election in a major way."
Warren, an African-American who is Sparta's elections registrar, bought a hand-held video camera and began videotaping the county elections board's meetings. His evidence helped lead the Georgia NAACP, the Lawyers' Committee and other advocacy groups to sue the county elections board, demanding that voters struck from the rolls be restored unless the county could prove they were ineligible.
A federal judge agreed. So far, 27 of Sparta's 53 disenfranchised voters have been reinstated; the rest have yet to be located. Hancock County officials insist they did nothing wrong. In depositions this summer, the three white elections-board members said their purge of Sparta's voter rolls not only was correct, but that they would do it again.
But Julie Houk, an attorney handling the case for the Lawyers' Committee, said the plaintiffs were determined to ensure that they do not. She said they plan to seek an injunction against future purges — and their lawsuit demands that the Justice Department reimpose preclearance reviews in the county until bias-free elections are a reality.
To Learn More:
Seeing Intentional Effort to Suppress Black Vote, Judge Strikes Down Part of Wisconsin Voter ID Law (by Jack Bouboushian, Courthouse News)
Federal Court Strikes Down Texas Voter ID Law as Discriminatory (by Noel Brinkerhoff, AllGov)
50 Years since Passage of Voting Rights Act … and Birth of the Campaign to Reverse It (by Noel Brinkerhoff and Steve Straehley, AllGov)
Supreme Court Voting Rights Decision Simplified—A Republican Dream Come True (by David Wallechinsky, AllGov)