50 Years since Passage of Voting Rights Act … and Birth of the Campaign to Reverse It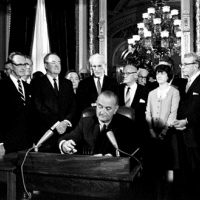 President Lyndon Johnson signs the Voting Rights Act, 1965 (AP photo)
Next week will mark the 50th anniversary of the passage of the Voting Rights Act (pdf) and there's some question whether it will still be around a half century from now.
The law, signed on August 6, 1965, by President Lyndon B. Johnson, was established to do away with attempts at the state level, particularly in the South, to keep blacks from voting. It prohibited states from using literacy tests and Jim Crow laws to keep black voters from the polls. Johnson called the legislation "one of the most monumental laws in the entire history of American freedom."
But in the last five years, Republican-led legislatures have used the excuse of voter fraud to adopt laws that have instituted new identification requirements, rolled back early voting, eliminated same-day registration and disqualified ballots filed outside home precincts according to Jim Rutenberg at New York Times Magazine.
Conservatives on the U.S. Supreme Court have also participated in this effort to undo the Voting Rights Act. In 2013, the court in Shelby County v. Holder gutted Section 5 of the law, which required that certain jurisdictions, mostly in the South, submit any changes in election law to the Justice Department for pre-approval.
Chief Justice John Roberts Jr., writing for the majority, declared that the Voting Rights Act had done its job, and struck down Section 5. That gave Republican state legislators the green light to enact even more restrictive voting laws, according to Rutenberg.
Roberts has been working for decades to neutralize the Voting Rights Act. He began as an attorney in the Reagan Justice Department, urging that the law become color-blind, even though decades of segregation, discrimination and slavery had effects that were still being felt, Rutenberg wrote. The Shelby County decision is a direct descendant of the policy he championed as a Reagan appointee.
A bill that would restore Section 5's protections has been introduced in Congress, but Rep. Bob Goodlatte (D-Virginia), who chairs the House Judiciary Committee, hasn't given it a hearing, saying current protections are sufficient.
-Noel Brinkerhoff, Steve Straehley
To Learn More:
A Dream Undone (by Jim Rutenberg, New York Times Magazine)
Voting Rights: One Way the GOP Might Reverse What Scalise Scandal Made Worse (by David Hawkings, Roll Call)
The Fight To Strengthen Voting Rights Act Is Not Over Yet (by Zachary Roth, MSNBC)
North Carolina's Messy Voting Laws Restrict Voting and Support Gerrymandering (by Steve Straehley, AllGov)
Supreme Court Voting Rights Decision Simplified—A Republican Dream Come True (by David Wallechinsky, AllGov)