Private Prison Industry Spends Millions Lobbying Congress to Maintain Immigrant "Bed Mandate" Quotas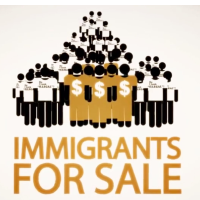 (film by Brave New Films)
The private prison industry spends millions to persuade Congress to keep in place a quota system that keeps as many as 34,000 immigrants locked up, many in for-profit detention centers.
A report from the Grassroots Leadership says private prison corporations that contract with the Department of Homeland Security (DHS) spent almost $17 million over six years to lobby Congress to maintain the volume of immigrants in detention centers. The largest private prison company, Corrections Corporation of America, spent $10.5 million on lobbying "on issues related to immigrant detention and immigration reform," according to the report.
The report also found that nine of the 10 largest immigrant detention facilities are operated by for-profit prison corporations, and that these companies operate 62% of immigrant detention beds.
Some lawmakers have been adamant about keeping the quota in place, and have even objected when DHS has released some immigrants from the centers. Two years ago, House Homeland Security Committee Chairman Michael McCaul (R-Texas) informed Immigration and Customs Enforcement (ICE) that it was "in clear violation of statute" for not maintaining all 34,000 bed spaces following the release of 2,000 individuals.
DHS Secretary Jeh Johnson responded, telling Congress that the quota wasn't mandatory and that ICE must only "maintain the capability" to house 34,000 immigrants and that some of the beds might be empty at times, according to ThinkProgress.
-Noel Brinkerhoff, Steve Straehley
To Learn More:
Millions Spent Lobbying By Private Prison Corporations to Keep a Quota of Arrested Immigrants, Report Says (by Esther Yu-His Lee, ThinkProgress)
Payoff: How Congress Ensures Private Prison Profit with an Immigrant Detention Quota (by Bethany Carson and Eleana Diaz, Grassroots Leadership)
Immigrant Detention Bed Quotas Cost Taxpayers, Profit Private Prison Companies (by Noel Brinkerhoff, AllGov)
Private Prisons Punish States for not Having Enough Prisoners (by Matt Bewig, AllGov)