Immigrant Detention Bed Quotas Cost Taxpayers, Profit Private Prison Companies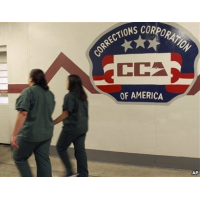 Immigrant detainees at the T. Don Hutto Residential Center, a Corrections Corporation of America immigration facility in Taylor, Texas (AP Photo)
Since the beginning of the Obama administration, federal authorities have operated under a quota system mandated by Congress for immigration detentions that has proven costly for taxpayers but beneficial for private prison companies.
The Department of Homeland Security (DHS), which oversees Immigration and Customs Enforcement (ICE), has had to maintain enough space in detention centers for 34,000 immigrants a day, as a result of legislation approved by Congress five years ago. Keeping that many beds available, regardless of the actual need, has consumed more than $2 billion a year, according to the Center for American Progress (CAP), a progressive think tank.
"An estimated 70 percent of immigrants in detention facilities fall into the mandatory detention category; this means that 30 percent of the 34,000 immigrants detained each day would be eligible for release if not for the quota," according to CAP. "Removing the quota would save taxpayers at least $600 million per year and prevent tens of thousands of people from unnecessary imprisonment."
However, taking this action would remove millions of dollars from the pockets of those who run private prisons where immigrants are detained.
In fact, companies like Corrections Corporation of America (CCA), the Geo Group and others are paid to hold nearly two-thirds of all immigrants detained each day under the government's program. And that's not by accident. CCA and the Geo Group have spent more than $15 million lobbying since 2005. They've gotten a good return on their investment: CCA receives $752 million from all its federal contracts each year.
-Noel Brinkerhoff
To Learn More:
New Analysis and Infographics Show the Dangerous and Costly Effects of Detainee Bed Quotas (Center for American Progress)
Congress' Costly Detention Quota: A Little-Known Congressional Quota is Placing LGBT Immigrants in Grave Danger (Center for American Progress)
Infographic: Detention Means Big Money for For-Profit Prisons (Center for American Progress)
Congress Mandates Jail Beds for 34,000 Immigrants as Private Prisons Profit (by William Selway and Margaret Newkirk, Bloomberg)
Private Prisons Punish States for not Having Enough Prisoners (by Matt Bewig, AllGov)
Private Prison Company to Demand 90% Occupancy (by Noel Brinkerhoff and David Wallechinsky, AllGov)