Private Prisons Punish States for not Having Enough Prisoners
Monday, September 23, 2013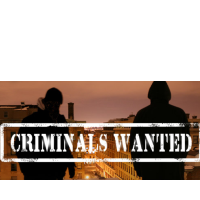 (graphic: criminalswanted.org)
Several states, including Arizona, California, Louisiana, Oklahoma and Virginia, are paying private prison companies for housing prisoners who don't exist, according to a new report from the advocacy group In the Public Interest. And there's not much they can do, because of "occupancy clauses" in many private prison contracts that guarantee revenue even when prison populations decline.
The report covers more than 60 contracts between prison companies and state and local governments around the country, finding quotas for prisoners ranging from 70% to 100% in nearly two-thirds of them. Most of the contracts mandated that at least 90% of prison beds be filled.
Study author Shahrzad Habibi argues that the occupancy clauses create perverse incentives. "You can't project years into the future what your prison population is going to look like. If there is a reduction in the prison population, instead of closing these private prisons first, there is an incentive to keep funneling inmates there, to keep giving them business."
That is already happening. In December 2009, the largest private prison company in the U.S., Corrections Corporation of America (CCA), helped draft the infamous Arizona immigration legislation, and private prison companies have been caught lobbying against marijuana law reform.
Issa Arnita, a spokesman for Management & Training Corp., said the occupancy guarantees lead to lower rates for government because of the "stability it provides to operators," who don't have to factor in the risk of fluctuating inmate populations and "empty beds."
That view was echoed by Doug Nick, a spokesman for the Arizona Department of Corrections, who said the department prefers bed guarantees because they "protect the taxpayer. If you don't have a guarantee of occupancy, the operator of the prison is really going to want a much higher per-diem rate. There are fixed costs that any operator, public or private, has to meet."
While acknowledging those concerns, critics charge that the occupancy guarantees go too far in placing all the risk on the taxpayer, and point out that many states, including Texas, base their payments only on the number of inmates in a facility for a given day.
"When entering a contract to operate a prison, a private company should be required to take on some risk," the report concludes. "Private prison beds were intended to be a safety valve to address demand that exceeded public capacity. It was never intended that taxpayers would be the safety valve to ensure private prison companies' profits."
-Matt Bewig
To Learn More:
Prison Quotas Push Lawmakers To Fill Beds, Derail Reform (by Chris Kirkham, Huffington Post)
Criminal: How Lockup Quotas and "Low-Crime Taxes" Guarantee Profits Guarantee Profits (In the Public Interest) (pdf)
Wanted: Criminals to Fill Empty Prisons (by Noel Brinkerhoff, AllGov)
Private Prison Company to Demand 90% Occupancy (by Noel Brinkerhoff and David Wallechinsky, AllGov)
Private Prison Industry Helped Create Anti-Immigrant Law in Arizona (by Noel Brinkerhoff and David Wallechinsky, AllGov)