Poor Patient Care and Conflict-of-Interest Alleged at Ohio VA Hospital
Friday, February 19, 2016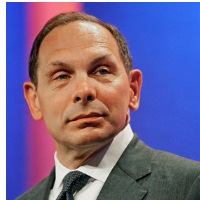 Secretary of Veterans Affairs Robert A. McDonald (photo: Mario Tama, Getty Images)
WASHINGTON (Reuters) - U.S. Republican Senator Rob Portman on Wednesday asked an independent watchdog to look into "deeply disturbing" allegations of poor care and conflicts of interest at a Veterans Affairs hospital in his home state of Ohio.
The allegations are the latest problem for a scandal-plagued agency that has become a punching bag in the Nov. 8 presidential election campaign, particularly for Republican front-runner Donald Trump.
In a letter to the department's Inspector General, Portman urged a "swift and independent" probe after a report showed 34 current and former employees had blown the whistle about problems at the VA hospital in Cincinnati.
"These allegations are deeply disturbing. Those who have served their country in uniform are entitled to the best possible medical care," wrote Portman, who is up for reelection in November congressional elections.
The House of Representatives' Veterans Affairs committee is also investigating the allegations, said Republican Representative Brad Wenstrup from Ohio, a member of the panel who said he was "appalled" at the allegations.
"We will continue to investigate these troubling claims and hold the VA accountable," Wenstrup said.
The lawmakers were responding to an investigative report published on Tuesday by Scripps' Washington bureau and WCPO, the ABC affiliate in Cincinnati.
The report found surgeries and specialist care at the hospital, which treats 40,000 veterans, had been cut to save money, and described surgical instruments delivered to operating rooms contaminated with blood and bone debris from previous surgeries.
The report also alleged a top hospital official was improperly drawing two salaries and had prescribed controlled pain medication to the spouse of the regional director without a valid license.
The Department of Veterans Affairs declined to comment directly on the allegations. But on Saturday, an official said oversight of the clinic would be "temporarily realigned" to a VA regional office in Pittsburgh as it looked into the allegations.
The agency also said it had asked its Inspector General to launch a separate probe.
In 2014, a cover-up of long wait lists and shoddy medical care for veterans at a hospital in Phoenix, Arizona, embarrassed the Obama administration and led to the resignation of the department's chief.
Obama appointed Bob McDonald, a former CEO at Cincinnati-based Procter & Gamble, as the new secretary and charged him to fix the problems at the agency.
Reporting by Roberta Rampton.
To Learn More:
Bronx VA Hospital Spent $54 Million on Prosthetic Arms and Legs by Charging $1 Less than Charge Limit Every Time (by Noel Brinkerhoff, AllGov)
V.A. Doctor Says She was Fired for Refusing to Prescribe Higher Doses of Narcotic Painkillers (by Noel Brinkerhoff and Danny Biederman, AllGov)
5 VA Hospitals Banned from Performing Most Surgeries (by Noel Brinkerhoff and David Wallechinsky, AllGov)