Patient Privacy Laws Misapplied to Protect Health Centers, Not Patients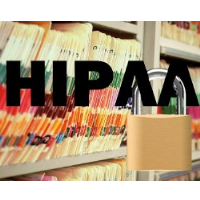 (graphic: Steve Straehley, AllGov)
When Congress adopted the landmark Health Insurance Portability and Accountability Act (HIPPA) of 1996, the achievement was hailed for making privacy of patients' medical records a new federal guarantee. But over the next two decades, healthcare institutions began misapplying, if not abusing HIPPA to protect themselves from public inquiries and even deny individuals access to their own medical records.
ProPublica found numerous examples of how the law has become twisted by the industry, essentially turning HIPPA on its head.
Americans have been threatened by private security at hospitals for simply trying to take a family photo and police have been thwarted in investigations of alleged sexual assaults in nursing homes, all in the name of HIPPA.
Even the Department of Veterans Affairs has tried to hide behind HIPPA while going after whistleblowers who exposed violations within the VA. "We routinely hear from our members who wish to make disclosures about problems with the patient care system and other conduct within the VA," the lawyer for the American Federation of Government Employees wrote in a June letter to the VA's general counsel. "Most are reluctant to do so both because of a history of reprisals by VA management, and because of recent experience with laws designed to protect patients which are instead being used as a sword against employees by VA management."
The law is often misinterpreted. "Sometimes it's really hard to tell whether people are just genuinely confused or misinformed, or whether they're intentionally obfuscating," Deven McGraw, partner in the healthcare practice of Manatt, Phelps & Phillips and former director of the Health Privacy Project at the Center for Democracy & Technology, told ProPublica.
McGraw added that the Department of Health and Human Services Office of Civil Rights has received numerous complaints from Americans saying HIPPA was the reason why they were denied access to their medical records.
"Often they're told [by hospitals that] HIPAA doesn't allow you to have your records, when the exact opposite is true," he said.
-Noel Brinkerhoff
To Learn More:
Are Patient Privacy Laws Being Misused to Protect Medical Centers? (by Charles Ornstein, ProPublica)
A Public Death: Is the HIPAA Patient Privacy Law Being Abused to Bury Government Secrets? (by William Heisel, USC Annenberg)
Would Gun Background Checks Clash with Health Privacy Laws? (by Matt Bewig, AllGov)
Patients Not Allowed Access to Data Collected by Implants in their Bodies (by Noel Brinkerhoff, AllGov)