Obama Designates "National Monument" Status to Utah Lands, Drawing GOP Ire
Friday, December 30, 2016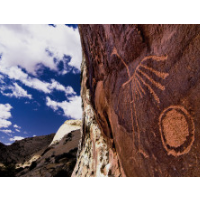 Petroglyph graces mountain wall in Bears Ears (photo: Bears Ears Intertribal Coalition)
By Jonny Bonner, Courthouse News Service
SALT LAKE CITY (CN) – Drawing the ire of leading Republicans as a "slap in the face," President Barack Obama on Wednesday designated the sprawling and scenic Bears Ears area of southeastern Utah as a national monument.
Obama also designated the 300,000-acre Gold Butte National Monument in Nevada in Wednesday's order.
Bears Ears covers 1.35 million acres of public lands near San Juan County's Cedar Mesa, and includes rock art, archeological sites, and lands considered sacred by Native American tribes.
The moves, according to a White House statement, followed "years" of public input and proposals to protect the areas including legislation and a proposal from tribal governments.
"These monuments will protect places that a wide range of stakeholders all agree are worthy of protection," Obama said. "We also have worked to ensure that tribes and local communities can continue to access and benefit from these lands for generations to come."
A Bears Ears Commission, Obama added, will ensure "tribal expertise and traditional knowledge assist in the management of the monument and help us to best care for its remarkable national treasures."
Prominent Republicans were incensed by the outgoing president's announcement.
Seven-term Sen. Orrin Hatch of Utah called the designation a "travesty," an "attack on an entire way of life," and an "astonishing and egregious abuse of executive power."
He added, "President Obama has shown that far-left special interest groups matter more to him than the people who have lived on and cared for Utah's lands for generations. For Utahns in general, and for those in San Juan County in particular, this is an affront of epic proportions and an attack on an entire way of life."
Sen. Mike Lee, also of Utah, separately said he will "work tirelessly" with Congress and President-elect Donald Trump's administration to "undo" the designation – most likely by exempting Utah from Antiquities Act designations.
"This arrogant act by a lame-duck president will not stand," Lee said.
Utah Attorney General Sean Reyes called the Antiquities Act a measure "to protect archaeological sites from pillage by treasure hunters with narrow, focused designations of thousands of acres or only what was absolutely necessary."
But Obama used the act as a tool to "bypass proper congressional authority, to designate millions of acres at a time and far beyond what is necessary to preserve sacred sites," Reyes said, adding that a challenge in the courtroom was not the only option.
"Our federal delegation is working hard to defund the designation or rescind it altogether," Reyes said. "Additionally, we look forward to working with the new presidential administration on ways to curtail or otherwise address the designation."
Utah Gov. Gary Herbert joined in the lambasting, and said the designations ignored the will of the majority of Utahns.
"It disregards the desire of Native American groups who count these lands as their heritage to co-manage this culturally important area. It overlooks the unanimous opposition of Utah's statewide elected officials and Utah's entire congressional delegation. It runs roughshod over a resolution from Utah's legislature opposing such action," Herbert said.
The governor's bold words continued in a scathing release.
"As outraged as many people are with today's decision, we know how to challenge this action appropriately through the many administrative, legal and legislative avenues available to us," he said. "We will aggressively pursue these options."
Never shy, Rep. Jason Chaffetz, R-Utah, separately called the "midnight monument" a "slap in the face to the people of Utah, attempting to silence the voices of those who will bear the heavy burden it imposes."
Utah Rep. Mia Love pledged "to use every tool in our arsenal to undo what [Obama] has done, and restore the blessings of freedom he wants so badly to remove from us in his final days."
Commissioners in San Juan County said the region, with a population of 14,746, "mourns" after Obama "gave into pressure from extreme environmental groups, out-of-state tribal leaders, and corporate interests."
Special interest groups "used deception and collusion to drown out local voices," the commissioners said.
"San Juan County has only to look to our neighbors in Garfield and Kane counties to see the devastating consequences this process produces – the destruction of archaeological and cultural resources, the closure of public schools, and a shattered economy," they added.
Meanwhile, Democrats cheered the designations. Utah Democratic Party Chair Peter Corroon called the move a "last resort."
"Utah leaders have deliberated for years regarding how to best preserve Bears Ears," Corroon said. "When our GOP leaders failed to find a solution that prioritized protecting these cherished lands while showing respect for indigenous culture and traditions, an executive order became a last resort to preserve this amazing part of Utah's landscape."
The monument, Corroon continued, will help grow the Beehive State's "booming" outdoor industry, bring more to its economy, and "ensure our children and grandchildren will be able to enjoy Utah's vast and beautiful landscape for many years."
He added, "We need to be good stewards of the land for generations to come, and where our Republican leaders have failed, Utah Democrats are committed to fighting for our public lands."
Navajo Nation President Russel Begaye joined in the praise.
"There was a time when our nations, American and Navajo, were at war with each other – when the U.S. Cavalry forcibly rounded up Navajo men, women, and children, and marched them at gunpoint to a foreign land hundreds of miles away," Begaye wrote on Wednesday.
"During this time, some of my Navajo ancestors successfully hid at a sacred place of prayer, shelter, and fortitude: the Bears Ears area of Utah."
Thanks to Obama, Begaye added, the land "will be finally given the legal reverence and protection it deserves."
Obama has now set aside more land, water and historic sites for conservation than any other U.S. president, passing Franklin D. Roosevelt.
Bears Ears will be added to the National Landscape Conservation System and administered by the Bureau of Land Management.
The 35-million-acre network of Western lands includes monuments, scenic and historic trails, forest reserve, and wilderness and conservation areas.
To Learn More:
Obama Adds One Million Acres of Wilderness to Federal Protection (by Noel Brinkerhoff, AllGov)
John McCain Says Laws Protecting National Parks and Monuments Threaten National Security (by Noel Brinkerhoff and Steve Straehley, AllGov)
"Tyrant" Obama, in California, Declared National Monument, Like 15 other Presidents (by Ken Broder, AllGov California)
House Republicans Try to Make it Harder to Create New National Monuments by Altering 108-Year-Old Law (by Noel Brinkerhoff, AllGov)