House Republicans Try to Make it Harder to Create New National Monuments by Altering 108-Year-Old Law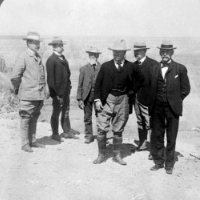 President Theodore Roosevelt (center) declares the Grand Canyon a national monument
President Barack Obama has again overstepped his presidential authority, according to House Republicans, who now want to curtail his ability to turn public lands into national monuments.
Similar to national parks, but often smaller in size, national monuments have been established by presidents since Theodore Roosevelt, who created Grand Canyon National Monument (later to become a national park).
Republican and Democratic presidents have justified the creation of national monuments by citing the 1906 Antiquities Act. The law allows the White House to bypass Congress in setting aside certain federal lands for preservation (instead of creating national parks, which require lawmakers to approve them).
But as they have often proclaimed, House Republicans argue Obama can't be trusted with his authority. So they have proposed changes to the Antiquities Act.
Under the proposed Ensuring Public Involvement in the Creation of National Monuments Act (pdf), no new national monuments would be created unless environmental and economic studies are performed and input is gathered from local citizens who might be affected by the declaration.
The legislation also would limit the president to creating just one national monument per state in a four-year term.
Opponents have labeled the bill the "No More Parks Act," saying there already are too many hurdles in place for protecting federal lands.
But it's not likely the Republicans will get their bill into law. Senate Democrats will probably scuttle the plan if its reaches their house, and if they don't, Obama would likely veto it.
-Noel Brinkerhoff
To Learn More:
House GOP Wants to Make It Nearly Impossible for Obama to Create New National Monuments (by Sarah Mimms, National Journal)
House Republicans Declare That the American People Will Have No New National Parks (PoliticusUSA)