Obama Adds One Million Acres of Wilderness to Federal Protection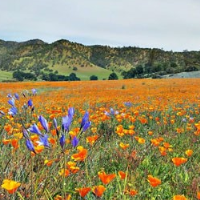 Berryessa Snow Mountain National Monument (photo: berryessasnowmountain.org)
Adding to his environmental legacy, President Barack Obama has set aside one million acres of wilderness as part of his creation of three national monuments.
The White House announced earlier this month that Basin and Range National Monument in Nevada, Berryessa Snow Mountain National Monument in California and Waco Mammoth National Monument in Texas would be protected as public lands. They join 16 other national monuments Obama has already created under the Antiquities Act. The president has set aside "more public lands and waters than any administration in history," according to his administration.
The Basin and Range National Monument features pristine valleys of wilderness and wildlife habitat, plus significant cultural and historical sites, including ancient artwork dating as far back as 4,000 years, ClimateProgress reported.
The Berryessa Snow Mountain National Monument in Northern California is considered a prime recreational destination and one of the most biologically diverse areas in the state.
The Waco Mammoth National Monument is best known for the remains of 24 mammoths. There are also remains of saber-toothed cats, dwarf antelopes and western camels on the site.
-Noel Brinkerhoff
To Learn More:
Obama Permanently Protects More Than One Million Acres Of Public Lands (by Claire Moser and Annie Wang, ClimateProgress)
Obama Designates National Monuments In Texas, Calif., Nevada (by Josh Lederman, Associated Press)
John McCain Says Laws Protecting National Parks and Monuments Threaten National Security (by Noel Brinkerhoff and Steve Straehley, AllGov)
"Tyrant" Obama, in California, Declared National Monument, Like 15 other Presidents (by Ken Broder, AllGov California)
House Republicans Try to Make it Harder to Create New National Monuments by Altering 108-Year-Old Law (by Noel Brinkerhoff, AllGov)