John McCain Says Laws Protecting National Parks and Monuments Threaten National Security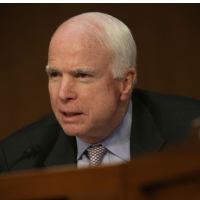 Chairman John McCain (R-Arizona)--Getty Images
A bill introduced by Republican Senator John McCain of Arizona that would allow Customs and Border Protection "access to federal lands for security activities" was passed out of committee this week.
McCain and his cosponsor, Rep. Matt Salmon (R-Arizona), said in a March news release that "laws put in place to protect these lands also prevent Border Patrol agents from doing their jobs," and the legislation, the Arizona Borderland Protection and Preservation Act (SB 750) (pdf), would "cut unnecessary red tape and enable Border Patrol agents to have access to all federally managed land in Southwest Arizona so they can perform their jobs effectively, keep our communities safe, and secure the border once and for all."
McCain dismissed opposition to the bill within the Homeland Security and Government Affairs Committee. "I don't give a damn if somebody that lives in Delaware doesn't like my efforts to secure our border so that people who live down on our border can live in an environment of peace and security that the people of Delaware can live in," McCain said, according to Arizona Public Media.
The change would allow the Border Patrol to roam on 10 million acres of federal lands and parks in Arizona and California and even construct radio towers in areas where no development is currently allowed. Saguaro National Park, Coronado National Forest, Sonoran Desert National Monument and other sensitive areas could lose their current protections under McCain's plan.
Some conservationists say McCain's real agenda is to roll back longstanding protections for public lands. Randy Serraglio with the Center for Biological Diversity told E&E Publishing that "the notion that laws protecting public lands are somehow impeding border security is a fantasy cooked up by politicians who've been trying for many years to weaken those protections."
Currently, the Border Patrol works with the National Park Service and Forest Service, Dan Millis, program organizer for the Sierra Club's Grand Canyon Chapter, told ThinkProgress. "Better coordination is a good thing for the environment, since land managers have the chance to share their expertise with law enforcement, and vice-versa. S.750 would undermine cooperative efforts. It doesn't make sense for lawmakers to legislatively insist that agencies ignore each other and that Border Patrol run roughshod over cultural and environmental considerations."
-Noel Brinkerhoff, Steve Straehley
To Learn More:
Bill Would Roll Back Public Lands Protections In The Name Of National Security (by Claire Moser, ThinkProgress)
Senate Committee Wants Border Patrol Access Expanded (by Christopher Conover, Arizona Public Media)
Senate Homeland Security & Government Affairs Passes Bill To Enhance Border Security (by Brian Rogers, Prescott News)