Nation's Big-City Mayors Unite to Defend Minorities, Immigrants against Trump Policies
Saturday, December 31, 2016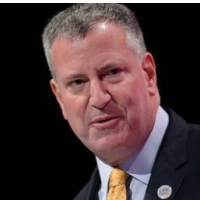 Mayor Bill de Blasio (photo: AFP/Getty Images)
By J. David Goodman, New York Times
NEW YORK — A year into his term, Mayor Bill de Blasio of New York City circulated a memo that made clear his desire to use a newly formed coalition of mayors, whose purpose was to push for immigration reform, to go further and nudge lawmakers in a "progressive direction."
But the effort, freighted with the sizable weight of the mayor's national ambitions, faltered amid infighting and stalled after court decisions halted President Barack Obama's executive action on immigration.
Now, the election of Donald Trump has reinvigorated the coalition, giving de Blasio the means to rally dissent among the big city mayors and potentially offering him a leg up on claiming the mantle of a leading Trump antagonist among Democrats.
Since Election Day, de Blasio has used his perch as the mayor of the United States' largest city — and Trump's hometown — to cast himself as a defender of immigrants, minorities and others fearful over what the new administration's policies might mean for urban residents. Behind the scenes, his administration has tried to rally other municipal leaders to press for last-minute action by Obama, particularly on immigration.
In a template for coordinated action, immigration officials from nine of the country's largest cities, including Atlanta, Los Angeles and Chicago, and led by New York, held a conference call this month with the White House to press the Obama administration for swift changes on immigration before Inauguration Day.
Those requests included a call for early renewal of protected or deferred action status for immigrants who have it temporarily because of their countries of origin or because of Obama's Deferred Action for Childhood Arrivals program.
The group also urged the White House to formally end a special registration program for nonimmigrant visitors that grew out of the Sept. 11 attacks and that could provide a way to create a Muslim registry, an idea endorsed by Trump during the campaign. Amid pressure from the mayors, Democrats in Washington and civil rights groups, the Obama administration moved last week to dismantle the program.
To Learn More:
Obama Disrupts Trump's Plan to Register Muslims by Dismantling Remains of Bush-Era Program (by Adam Klasfeld, Courthouse News Service)
Programs to Help Undocumented Immigrants Obtain Drivers Licenses Could Aid Trump Deportation Efforts (by Patrick G. Lee, ProPublica)
Big Business Warns Trump of Damage to Economy from Mass Deportations (by Steve Peoples, Associated Press)
California Lawmakers to Enact Sweeping Laws to Resist Trump's Mass Immigrant Deportation Threats (by Jennifer Medina, New York Times)
Mass Deportations Damage U.S. Housing Market by Exacerbating Foreclosures (by Emily Badger, New York Times)
De Blasio, Cuomo Vow to Protect New York City from Trump Threats of Muslim Registries, Deportations, Stop-and-Frisk (by David Goodman, New York Times)