Justice Dept. Moves to Disband Arizona Police Force with Ties to Discriminatory Church
Tuesday, October 25, 2016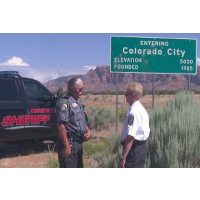 (photo: Mohave County Sheriff's Office)
By Jamie Ross, Courthouse News Service
PHOENIX (CN) — The Department of Justice will ask a federal judge this week to disband a law enforcement agency overseeing two towns on the Arizona-Utah border dominated by a fundamentalist Mormon sect led by imprisoned child molester Warren Jeffs.
The weeklong hearing is part of a religious discrimination filed against Colorado City, Ariz. and Hildale, Utah in 2012. The towns are accused of withholding police and utility services from non-members of the Fundamentalist Church of Jesus Christ of Latter-day Saints. Jeffs, its leader and "prophet," is serving a life sentence in a Texas prison for sexually abusing two girls he called his "spiritual wives."
A jury in March granted $2.2 million to six residents who were denied water hookups, housing and police protection because they were not FLDS.
The Department of Justice said in a post-trial brief on injunctive relief that the Colorado City Marshal's Office should be disbanded due to its lengthy "entanglement" with the FLDS church. The Marshal's Office oversees police in both towns.
"Defendants' decades of refusing to prevent the FLDS Church from impermissibly interfering with law enforcement services, alongside their refusal voluntarily to stop the CCMO's constitutional violations, underscore the necessity of preventing Defendants from having any future control over policing services in the cities," the April 29 filing states.
During the jury trial in February, the court heard allegations that the former chief marshal ignored claims that men in the community took underage wives.
"If it was a church marriage, I as a church member saw it as a valid marriage," former Chief Marshal Helaman Barlow testified. Barlow was chief marshal from 2012 to 2014, when he left the FLDS church.
One marshal in the department, Jonathan Roundy, was alleged to have married a 16-year-old girl.
In a May 31 response to the government's brief, attorneys for the marshal's office called the Justice Department's request "unprecedented."
"The United States has not requested to disband police departments that have engaged in systemic racial profiling, theft, drug trafficking, perjury, and other atrocities," the brief states.
Marshal's office attorneys said the court should look at the Justice Department's actions with other police departments, such as Ferguson, Mo., or Cleveland, to determine the correct remedies.
Despite a determination that Ferguson police officers committed unconstitutional stops and arrests and used excessive force, the Justice Department did not ask for its police department to be disbanded.
"Instead, it recommended that the department adopt new policies, provide training to its officers, implement measures to reduce bias, improve supervision, and develop mechanisms to deal with officer misconduct," the town's attorneys wrote.
The Justice Department said there are no real alternatives to disbanding the marshal's office; nor would appointing a receiver to run it be sufficient.
Appointing a receiver would be expensive for taxpayers and would result in "time-consuming, cumbersome and ultimately unsuccessful efforts," the government said in its brief.
Since Jeffs took control of the church from his father, Rulon, in the early 2000s, four chief marshals have been decertified by the Arizona Peace Officer Standards and Training Board or relinquished their certification.
"Previous court remedies, intense outside scrutiny from multiple agencies, and the piecemeal removal of FLDS-controlled officers — including four previous chief marshals — have not curbed defendants' determination that the CCMO remain controlled by the FLDS Church," the Justice Department wrote.
Marshal's office attorneys painted a different picture of the office's relationship with the Arizona Peace Officer Standards and Training Board (POST).
"The United States' request also ignores that neither Arizona POST nor Utah POST has decertified a single officer since 2007, which gives the marshal's department a decertification rate of 0 percent during that timeframe — a rate better than, or as good as, every other police department in Arizona and Utah," the town said in its response.
During the jury trial, current Chief Marshall Jerry Darger fought the religious discrimination claims.
"The marshal's office strives to protect everyone's constitutional rights," Darger testified. "I have no knowledge of any instances where the marshal's office violated anybody's constitutional rights."
The towns were sued again for religious discrimination less than two weeks ago. Two businessmen claimed the marshal's office arrested them on trumped-up trespass charges for trying to enter a farm they have leased, because they are non-FLDS.
In an email, Hildale attorney Blake Hamilton denied the men were arrested for their religious beliefs.
"We are confident that as the true facts come to light it will be clear that these gentlemen had every opportunity to avoid arrest but instead chose to get arrested because their goal was to file a lawsuit and support the Department of Justice's request to disband the Marshal's Office," Hamilton wrote.
To Learn More:
Jury Finds Polygamous Mormon Towns Guilty of Discriminating against Non-Believers (by Jamie Ross, Courthouse News Service)
Towns Run by Mormon Sect Deny Running Water to Non-Mormons (By Jamie Ross, Courthouse News Service)
Federal Government to Monitor Police Force Run by Polygamist Mormons (by Noel Brinkerhoff, AllGov)
Arizona Asks Federal Judge to Disband Police Department that Places Church Directives over Law (by Noel Brinkerhoff and Steve Straehley, AllGov)