House Republicans Strip Female Draft Sign-Up Requirement from Defense Bill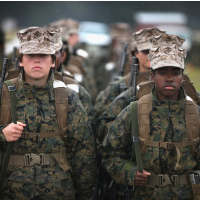 Female U.S. Marine recruits (photo: Scott Olson, Getty Images)
By Richard Lardner, Associated Press
WASHINGTON (AP) — Buckling under conservative pressure, House Republicans pulled a legislative sleight of hand Tuesday and stripped a provision from the annual defense policy bill that would have required young women to sign up for a military draft.
The decision triggered an outcry from Democrats, who cast the move as a GOP attempt to avoid a contentious vote on equality for women. But GOP lawmakers argued much more study is required before reversing the longstanding prohibition on including women in the Selective Service. They also questioned whether the Selective Service, which needs $23 million annually to operate, should be abolished altogether with an all-volunteer force.
The Senate defense bill does include a version of the provision, so the congressional discussion over whether women should register isn't over. Senate Majority Leader Mitch McConnell, R-Ky., weighed in Tuesday, saying it would be appropriate for women to register for the draft "just like men do."
But Rep. Pete Sessions, R-Texas, the chairman of the House Rules Committee, said he is "adamantly opposed to coercing America's daughters to sign up for the Selective Service at 18 years of age."
The House began considering the $602 billion defense policy bill hours after Sessions' committee removed the Selective Service provision.
The Obama administration has said it would veto the House defense policy bill because it shifts $18 billion in wartime spending to pay for weapons and troops the Pentagon didn't request. The administration also objects to a number of other provisions, including one that bans detainees held at Guantanamo Bay, Cuba, from being transferred to the United States.
Defense Secretary Ash Carter said in a speech that the "raid on war funding ... risks stability and gambles with war funding, jeopardizes readiness."
Including women in a potential mass mobilization has roiled social conservatives. They see such a mandate as another step toward blurring gender lines similar to allowing transgender people to use public lavatories and locker rooms of their choosing.
But proponents see the requirement as a sensible step toward gender equality. They point to the Pentagon's decision late last year to open all front-line combat jobs to women as removing any justification for gender restrictions on draft registration.
After the military services were ordered to integrate women into combat jobs, the top uniformed officers in each of the military branches expressed support during congressional testimony for including women in a potential draft.
Military leaders maintain the all-volunteer force is working and do not want a return to conscription. The U.S. has not had a military draft since 1973, in the waning years of the Vietnam War era. Still, the registration requirement remains for young men.
The Selective Service is an independent federal agency.
The House Armed Services Committee last month voted 32-30 to require women between the ages of 18 and 25 to register with the Selective Service — just as men of the same ages are legally required to do. Six Republicans voted in favor of the provision.
But before legislation gets to the House floor, it must first pass through the Rules Committee chaired by Sessions. He said he consulted with the Armed Services chairman, Rep. Mac Thornberry, R-Texas, and decided to remove the draft measure to prevent what Sessions called a "reckless policy" from moving forward without closer study of its impact
Rep. Steny Hoyer of Maryland, the No. 2 Democrat in the House, said Republicans wanted to avoid subjecting "their members to a vote on equality for women, and they ought to."
Rep. Adam Smith of Washington, the Armed Services Committee's top Democrat, decried the Rules Committee's decision to reverse the vote, calling it "a dead-of-night attempt to take an important issue off the table."
Rep. Mike Coffman, R-Colo., a member of the committee, also disagreed with the move. He said he and most other lawmakers didn't find out about what the Rules Committee had done until Tuesday morning.
"We have a choice to make: Either we continue with Selective Service and have women be a part of it or we abolish it altogether. I'm for abolishing it altogether," Coffman said.
The Senate Armed Services Committee voted last week to include a draft registration requirement for women in its version of the annual defense policy bill. That measure calls for women to sign up with the Selective Service within 30 days of turning 18 — just as men are — beginning in January 2018, according to a summary of the legislation released by the committee.
If the draft requirement makes it through the full Senate, then the issue will have to be settled by a House-Senate conference committee.
Associated Press writers Erica Werner, Matthew Daly and Lolita C. Baldor contributed to this report.
To Learn More:
Senate Panel Votes to Require Women to Register for Military Draft (by Richard Lardner, Associated Press)
Armed Services Committee Votes to Require Women to Register for the Draft (by Richard Lardner, Associated Press)
U.S. Generals Urge Congress to Require Women to Register for Military Service (by Lolita C. Baldor, Associated Press)