Two Female Officers Sue Pentagon for Right to Join Combat Units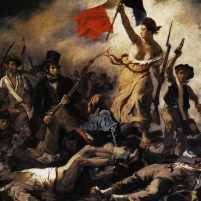 Liberty Leading the People by Eugène Delacroix (28th July 1830)
Despite official policies supposedly excluding women in the military from combat, more than "800 women have been wounded and over 130 women have died" in the wars in Afghanistan and Iraq, according to a lawsuit filed in federal court in the District of Columbia by two female Army officers, Command Sgt. Maj. Jane Baldwin and Col. Ellen Haring, against Defense Secretary
Leon Panetta
, Army Secretary
John McHugh
, Army Deputy Chief of Staff Thomas Bostick and Assistant Secretary of the Army Thomas Lamont. In the lawsuit, the officers allege that the government's exclusion of women from combat units violates Fifth Amendment rights of equal protection and the Administrative Procedure Act.
At issue is a
DOD
policy that "women shall be excluded from assignment to units below the brigade level whose primary mission is to engage in direct combat on the ground," and a similar Army policy as well. Just as the Pentagon's abandoned "Don't Ask, Don't Tell" policy on sexual orientation encouraged the military to engage in an ongoing game of make-believe about the presence of gays in the ranks, Baldwin and Haring argue that the official policy of excluding women from combat compels equally damaging self-deception about females in the armed forces, who are supposed to have no combat experience, even though women are "regularly and deliberately exposed to combat."
The Army circumvents the restriction by "attaching" women to ground combat units.
Given the reality of female combat casualties, the plaintiffs argue that women in the military face combat conditions on a regular basis, but their careers are held back by the false appearance created by the policy.
Baldwin began her military career in the Army Reserve in 1987. She claims that despite her Army career of more than 20 years, including experience as a senior drill sergeant and service in Iraq, she could not apply for two positions solely because of her gender.
Haring graduated from West Point in 1984 and, during her 28 years in the Army, has served in various positions, including associate professor for three years at the Army's
Command and General Staff College
. She says she was denied a position in Special Operations command in favor of a lower-ranking man who had Special Forces experience, which Haring cannot get because she is a woman.
"These bans exclude women from thousands of positions in the armed forces, no matter how qualified the women may be as individuals," the officers argue.
-Matt Bewig
To Learn More:
Army Couple Survives Cancer, Continues to Serve (by Brandon LeFlore, Armed Forces Press Service)