FBI Reverses Century-Old Policy, Will begin Recording Interrogations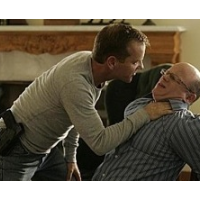 Federal agent Jack Bauer, interrogating a suspect in TV's "24," might not care for the new taping policy (photo: Fox TV)
Much to the delight of defense attorneys and many legal observers, the Federal Bureau of Investigation (FBI) has decided to finally begin recording the interrogations of suspects—something that has never been required in the bureau's long history.
The new policy (pdf) was quietly decreed in a May 12 internal memo issued by the U.S. Department of Justice.
Starting on July 11, FBI and other federal agents will utilize audio or video recording equipment (preferably the latter, the directive states) while interviewing suspects in custody.
The policy also applies to the Drug Enforcement Administration, the Bureau of Alcohol, Tobacco, Firearms and Explosives, and the U.S. Marshals Service, per James M. Cole, deputy attorney general.
Never before in its 106-year history has the FBI allowed, let alone ordered, its agents to electronically document interrogations.
In fact, it was the other way around until now, with officials explicitly telling agents to not record what went on inside interrogation rooms. One of the reasons for this was uncovered in 2006 by The New York Times, which revealed the contents of an internal FBI memo that expressed the agency's concern about the reaction of juries to recorded interrogations. The memo argued that defendants could more likely be acquitted by jurors offended by the deceitful tactics used by FBI interrogators, as seen or heard in tape recordings if they were to be made.
Defense attorneys and others hailed the policy reversal.
"As we have seen from data regarding wrongful convictions, coercive police techniques and compromised mental states can conspire to produce false confessions," Jerry J. Cox, president of the National Association of Criminal Defense Lawyers, told National Public Radio.
"Recording interrogations protects the accused against police misconduct, protects law enforcement against false allegations, and protects public safety by ensuring a verbatim record of the interrogation process and any statements," he added.
Paul Charlton, a former U.S. attorney for Arizona fired by President George W. Bush in part because he challenged the no-taping policy, called the change "really extraordinary."
"It's a step in the right direction for law enforcement," he told The Arizona Republic.
Nancy Savage, executive director of the Society of Former Special Agents of the FBI, described the agency's policy change as "a radical departure" and "a move forward."
The new policy includes exceptions, and does not apply in cases involving national security. In addition, FBI special agents in charge of field offices and U.S. attorneys can override the policy if deemed necessary for certain cases. And in instances where interview subjects refuse to be recorded, FBI personnel may comply with those requests.
-Noel Brinkerhoff
To Learn More:
DOJ Reverses No-Recording Policy for Interrogations (by Dennis Wagner, Arizona Republic)
New DOJ Policy Urges Agents To Videotape Interrogations (by Carrie Johnson, National Public Radio)
New Department Policy Concerning Electronic Recording of Statements (U.S. Department of Justice) (pdf)