FBI Explains to Wary Lawmakers Its Ongoing Need for Independent Hackers
Wednesday, April 20, 2016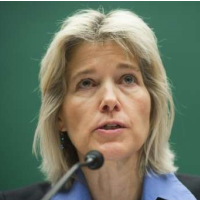 FBI's Amy Hess testifies before U.S. Congress, April 19, 2016 (photo: Saul Loeb, Getty Images)
By Cecilia Kang and Eric Lichtblau, New York Times
WASHINGTON — The FBI defended its hiring of a third party to break into an iPhone used by a gunman in last year's San Bernardino, California, mass shooting, telling some skeptical lawmakers Tuesday that it needed to join with partners in the rarefied world of for-profit hackers as technology companies increasingly resist their demands for consumer information.
Amy Hess, the FBI's executive assistant director for science and technology, made the comments at a hearing by members of Congress who are debating potential legislation on encryption. The lawmakers gathered law enforcement authorities and Silicon Valley company executives to discuss the issue, which has divided technology companies and officials in recent months and spurred a debate over privacy and security.
The hearing follows a recent standoff between the FBI and Apple over a court order to force the company to help unlock an iPhone used by one of the San Bernardino attackers. Apple opposed the order, citing harm to the privacy of its users. The FBI later dropped its demand for Apple's help when it found a third-party alternative to hack the device.
In Tuesday's hearing, Hess did not provide details on how the FBI gained access to the San Bernardino iPhone but said the agency had come to rely on private sector partners to keep up with changes in technology.
"These types of solutions that we may employ require a lot of highly skilled, specialized resources that we may not have immediately available to us," Hess said.
The focus on third parties at the hearing illustrates a growing discomfort by some in Congress and in the tech industry with the use of "gray hat" hackers, who are hackers who may push the boundaries of the law and anger companies but whose intentions are not malicious.
"I don't think relying on a third party is a good model," said Rep. Diana DeGette, D-Colo.
Apple's general counsel, Bruce Sewell, said at the hearing that encryption did not prevent the authorities from solving crimes.
Sewell also defended Apple's security practices, saying the company always aimed to keep its devices safe.
To Learn More:
FBI Admits it Mistakenly Locked Itself out of San Bernardino Killer's iPhone (by Cecilia Kang and Eric Lichtblau, New York Times)
Apple Resists Becoming "Arm of Law Enforcement" as Fed Requests Entry into 14 More Locked Devices (by Larry Neumeister, Associated Press)
Security Experts Discount FBI Contention that Apple Creation of iPhone Key Won't Put Privacy at Risk (by Brandon Bailey, Associated Press)