FBI Admits it Mistakenly Locked Itself out of San Bernardino Killer's iPhone
Wednesday, March 02, 2016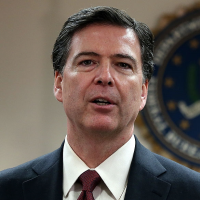 FBI director James Comey (photo: Justin Sullivan, Getty Images)
By Cecilia Kang and Eric Lichtblau, New York Times
WASHINGTON — The head of the FBI acknowledged Tuesday that his agency lost a chance to capture data from the iPhone used by one of the San Bernardino, California, attackers when it ordered that his password to the online storage service iCloud be reset shortly after the rampage.
"There was a mistake made in that 24 hours after the attack," James B. Comey Jr., the director of the FBI, told lawmakers at a hearing on the government's attempt to force Apple to help "unlock" the iPhone.
FBI personnel apparently believed that by resetting the iCloud password, they could get access to information stored on the iPhone. Instead, the change had the opposite effect — locking them out and eliminating other means of getting in.
The iPhone used by Syed Rizwan Farook, one of the assailants in the Dec. 2 attack in which 14 people were killed, is at the center of a fierce legal and political fight over the balance between national security and consumer privacy.
Bruce Sewell, Apple's general counsel, told committee members that the FBI's demand for technical help to unlock Farook's iPhone 5c "would set a dangerous precedent for government intrusion on the privacy and safety of its citizens." Apple has said that in many cases investigators have other means to gain access to crucial information, and in some instances it has turned over data stored in iCloud.
FBI officials say that encrypted data in Farook's phone and its GPS system may hold vital clues about where he and his wife, Tashfeen Malik, traveled in the 18 minutes after the shootings, and about whom they might have contacted beforehand.
But the FBI did not help its case with lawmakers when Comey acknowledged the mistake of changing the iCloud password.
"If the FBI hadn't instructed San Bernardino County to change the password to the iCloud account, all this would have been unnecessary, and you would have had that information," said Rep. Jerrold Nadler, D-N.Y.
To Learn More:
Apple Resists Becoming "Arm of Law Enforcement" as Fed Requests Entry into 14 More Locked Devices (by Larry Neumeister, Associated Press)
Security Experts Discount FBI Contention that Apple Creation of iPhone Key Won't Put Privacy at Risk (by Brandon Bailey, Associated Press)
Big Tech Firms Show Solidarity with Apple in Encryption Fight (by Brandon Bailey and Michael Liedtke, Associated Press)
Apple Blasts Court Order to Break into Killer's iPhone, Citing Risk to Privacy and Security of World's iPhone Users (by Eric Lichtblau and Katie Benner, New York Times)