FBI Claims it Doesn't Have to Share Records with Justice Dept. Inspector General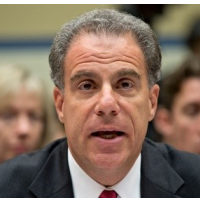 Michael Horowitz (photo: J. Scott Applewhite, AP)
The Federal Bureau of Investigation (FBI) has continued to stonewall requests by the Department of Justice's inspector general for records pertaining to multiple investigations by the internal watchdog.
The FBI has contended since 2010 that the IG's office lacks the legal authority to see documents related to certain matters, including grand juries, Title III electronic surveillances and Fair Credit Reporting Act information.
FBI officials also claim they don't have to share documents related to two investigations of alleged whistleblower retaliation, or those pertaining to an IG review of the FBI's use of telephonic metadata collected under Section 215 of the Patriot Act, according to the Project on Government Oversight.
The IG said in a report "delaying or denying access to agency documents imperils an IG's independence and impedes our ability to provide the effective and independent oversight that saves taxpayers money and improves the operations of the federal government."
"Actions that limit, condition, or delay access have profoundly negative consequences for our work: they make us less effective, encourage other agencies to take similar actions in the future, and erode the morale of the dedicated professionals that make up our staffs," the report stated.
And it might become even more difficult for the inspector general to get information from the FBI. The 2016 Justice Department budget proposal does not include the section that now forces the Bureau to cooperate with requests from the IG.
Inspector General Michael Horowitz said such a move "could lead the FBI to believe that its conduct has been sanctioned and could cause other department components to conclude that it is acceptable to ignore the Appropriations Act and clear requirements of the IG Act and raise legal objections to the OIG's access to certain records necessary to perform our important oversight function."
-Noel Brinkerhoff, Steve Straehley
To Learn More:
Watchdog Barks for Access to FBI Records (by Michael Smallberg, Project on Government Oversight)
Justice Watchdog Continues to Clash with FBI Over Access to Documents (by Charles Clark, Government Executive)
180 Day Report to Congress on the Impact of Section 218 of the Department of Justice Appropriations Act for Fiscal Year 2015 (Department of Justice Inspector General) (pdf)
Justice Dept. Report Details Clashes between FBI and Organized Crime Drug Task Force (by Noel Brinkerhoff, AllGov)