Criminal Past of Former Trump Business Partner to be disclosed in Unsealed Court Documents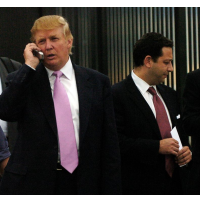 Donald Trump and Felix Sater (photo: Cyrus McCrimmon, Denver Post/Getty Images)
By Jeff Horwitz and Jake Pearson, Associated Press
NEW YORK (AP) — A federal judge agreed Tuesday to a request by The Associated Press to unseal about 240 court documents in a case related to the criminal past of a former business partner to Republican presidential candidate Donald Trump.
U.S. District Justice Brian M. Cogan said he will decide within two weeks whether to unseal 38 other documents in the case. But Cogan said during a hearing in Brooklyn federal court that he was leaning toward keeping those private because their disclosure would "deter cooperation and will jeopardize ongoing investigations."
The unusual case involves whether two lawyers should be held in criminal contempt for revealing details about the role of Felix Sater, a former Trump business associate, in orchestrating a Mafia-linked stock fraud scheme and his subsequent cooperation with the U.S. government.
The AP reported in December that, even after learning about Sater's criminal background, Trump tapped Sater to prospect for business on his behalf, giving Sater the title of senior adviser and an office in the Trump Organization's headquarters near to his own. The Trump Organization has downplayed the significance of the role, which it says never produced any business deals.
The lawyers facing the criminal probe, attorneys Frederick Oberlander and Richard Lerner, have said the secrecy surrounding Sater's criminal past allowed him to conceal additional misconduct during his time as a government cooperator and avoid paying restitution to his victims. They denied violating any orders against revealing confidential court records, and said that excessive sealing in the case has prevented them from citing documents that are publicly available elsewhere.
"He's acknowledged he's not abided by constitutional requirements for sealing, yet is continuing to maintain documents under seal," said Lerner.
Sater's attorneys have said the disclosure of information about Sater's cooperation puts him in danger and that the lawyers, Oberlander and Lerner, should be criminally prosecuted. Sater's lawyers said they would seek to bring a case themselves if prosecutors don't.
At Tuesday's hearing, an attorney for the AP questioned the level of secrecy in the case, arguing that at least some of the 38 documents kept secret appeared to be legal papers related to an earlier order to seal that make no mention of government cooperation or other criminal matters — and which no party to the case had even requested to be sealed.
"The presumption is access," said Katherine Bolger, noting she was at a disadvantage in arguing for access because she has been unable to see many of the sealed documents in the case. "The presumption is not closure."
"I appreciate that you're throwing darts at night in a darkened room," Cogan told her. "But I see the light."
Cogan acknowledged he had not previously considered the secrecy in the case. He said he had begun reviewing the justification for sealing in the past week when deciding whether records should be published on a public docket or a secret one.
The judge also urged the Justice Department to conclude its deliberations whether to charge Lerner and Oberlander with contempt. Because federal prosecutors in the U.S. District Court for the Eastern District of New York have twice recused themselves from handing the case, Cogan asked prosecutors in the northern district to appear again in 30 days to state their intentions.
To Learn More:
Judge Weighs Releasing Sealed Court Records on Convicted Felon Hired as Trump Senior Advisor (by Jeff Horwitz, Associated Press)
Exercising Right to Protest Is a Dangerous Undertaking at Trump Rallies (by Ashley Parker, New York Times)
Twitter Still Trump's Favorite Tool for Fear Mongering and Character Assassination (by Alexander Burns and Maggie Haberman, New York Times)
Conservatives Decide Trump Qualifies as a Fascist (by Noel Brinkerhoff, AllGov)