Attorney General of the United States: Who Is Jeff Sessions?
Tuesday, November 29, 2016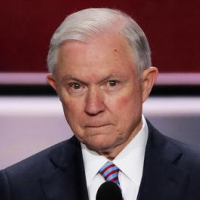 Jeff Sessions (photo: Getty Images)
Continuing to load his new administration with ultra-conservatives loyal to him, President-elect Donald Trump stated his intention to nominate Sen. Jefferson Beauregard Sessions III (R-Alabama) to serve as attorney general. The first Senator to endorse Trump for president, at a time when many party leaders were denouncing him for racist comments, Sessions was rejected by the Senate Judiciary Committee in 1986 for a federal judgeship because of allegations of racist behavior. Next year, that same committee will have to confirm his appointment to head the Department of Justice.
Born in Selma, Alabama, on December 24, 1946, to Jefferson B. Sessions, Jr., who owned a country store and a farm equipment dealership, and the former Abbie Powe, Sessions grew up near Hybart, Alabama, in Wilcox County. Located in the "black belt," Wilcox was the state's poorest county, a place where white power was so entrenched that African Americans constituted 77.9% of the population but not a single one was registered to vote.
According to a desegregation lawsuit filed in 1965, Jim Crow shaped Wilcox's separate but unequal school system as well. Despite the widespread poverty, Wilcox was able to provide a quality education to white students like Sessions because of segregation. Wilcox spent five times more per white pupil as per black pupil, and black schools lacked central heating, indoor plumbing, regular maintenance, or up to date instructional materials, all of which white schools, like Wilcox Central High School, had. Sessions graduated Wilcox Central in 1965.
Growing up in a pro-segregation household during the Civil Rights Movement, Sessions was 16 years old when Alabama Gov. George Wallace infamously pledged "segregation now, segregation tomorrow, segregation forever," in 1963, and 18 when the movement came to Wilcox in the form of voter registration drives and the case against the county school system. Dr. Martin Luther King, Jr., visited Wilcox County several times to assist in the fight. White resisters beat and killed civil rights activists, and even led an armed assault on a leading black church in July 1965.
After graduating high school, Sessions attended Huntingdon College in Montgomery, a private Methodist-supported school that was also for whites only, earning a B.A. in 1969. He was active in the Young Republicans at a time when some Southern whites were just beginning to switch to the GOP in response to Democratic support for civil rights, and was student body president. Sessions attended the University of Alabama School of Law, which in 1969 finally admitted its first black student, and graduated with his J.D. in 1973.
Although Sessions entered private practice in Russellville and later in Mobile, where he has lived since the 1970s, he has spent most of his career working for the government. He served as an Assistant U.S. Attorney for the Southern District of Alabama from 1975 to 1977 and as U.S. Attorney for the same district from 1981 to 1993. He also served in the Army Reserve in the 1970s with the rank of captain.
Nominated in 1986 for a federal judgeship by President Ronald Reagan, Sessions failed to persuade the Republican-controlled Senate Judiciary Committee to send his nomination to the floor for a vote because of allegations of racist statements and behavior.
According to sworn testimony, Sessions called a black attorney, Thomas Figures, who worked for him "boy," and admonished him to "be careful what you say to white folks." Sessions also stated that the ACLU and NAACP were "un-American" and "Communist-inspired" because they "forced civil rights down the throats of people," but joked that the Ku Klux Klan was "OK, until he learned that they smoked marijuana." Sessions denied using the term "boy" and being a racist, and defended the other comments, but testimony about his prosecution of the "Marion Three" just a year before doomed his chances.
In 1985, Sessions charged three civil rights workers—including Albert Turner, a former aide to Martin Luther King Jr. who led the mule wagon that carried King's body through the streets of Atlanta in 1968—with voter fraud, for allegedly tampering with 14 absentee ballots. The three had been working in Alabama's "Black Belt" counties, where black voter registration drives were beginning to bear fruit. Sessions' decision to focus on these counties to the exclusion of others was criticized by civil rights advocates, who charged that Sessions was scrutinizing the black community, but overlooking similar violations among whites. Worst of all, the case was weak: the judge dismissed more than half of the charges for lack of evidence, and the jury took only three hours to acquit the defendants on the remainder.
The Senate Judiciary Committee, despite its Republican majority, rejected Sessions' nomination by a vote of 10-8, only the second time that had happened in 48 years.
In 1993, seven years after the derailment of his judicial nomination, Sessions resigned as U.S. Attorney in order to allow the incoming Clinton administration to select a successor. Just two years later, Sessions was elected Alabama attorney general in 1995, serving in that post for just two years before winning election to the U.S. Senate—and subsequently a seat on the Judiciary Committee.
Sessions has been one of the Senate's most conservative members. On every issue he will encounter as attorney general, he takes a far-right position. On immigration, for example, Sessions not only opposes a path for citizenship for undocumented residents, he wants to restrict legal immigration as well. He has opposed special visa programs sought for Silicon Valley and, in a May 2006 speech in the Senate, said, "Almost no one coming from the Dominican Republic to the United States is coming because they have a skill that would benefit us."
Sessions opposes any civil rights protections for gay or transgender Americans, earning a 0 rating from the Human Rights Campaign. He voted for a constitutional amendment to ban same-sex marriage and voted against expanding hate crimes to include crimes against homosexuals.
Sessions is also anti-choice, and was one of only 37 Senators to vote against embryonic stem cell research, and one of only 22 who opposed the Violence Against Women Act reauthorization in 2013.
He strongly opposes the legalization of marijuana for any reason, stating that pot "is dangerous, you cannot play with it, it is not funny, it's not something to laugh about...and good people don't smoke marijuana." He believes that marijuana is more dangerous that alcohol and that marijuana use leads to the abuse of other drugs.
Sessions has been a strong supporter of government surveillance methods and voted against the USA Freedom Act of 2015 that restricted the National Security Agency's surveillance powers.
Although Sessions voted to confirm President Barack Obama's choice of Eric Holder as attorney general, he voted against Holder's replacement, Loretta Lynch.
Sessions and his wife, Mary, have two daughters and one son and seven granddaughters and three grandsons.
-Matt Bewig
To Learn More:
Trump picks Sen. Jeff Sessions for attorney general (by Del Quentin Wilber and Lisa Mascaro, Los Angeles Times)
Jeff Sessions, as Attorney General, Could Overhaul Department He's Skewered (by Eric Lichtblau, New York Times)
What they are saying about Jeff Sessions back home (by John Sharp, Alabama.com)
United States v. Wilcox County (Ala.) Board of Education, 494 F.2d 575 (5th Cir. 1974)
United States v. Wilcox County (Ala.) Board of Education (DOJ Trial Brief, 1966).
Transcript of Senate Hearings on Judicial Nomination of Jefferson Sessions III (1986)
The General Condition of the Alabama Negro (Student Non Violent Coordinating Committee, 1965).
Bus Ride to Justice (by Fred D. Gray, rev. ed., 2013).
This Bright Light of Ours: Stories from the Voting Rights Fight (by Maria Gitin, University of Alabama Press, 2014).