Army General Tried for Rape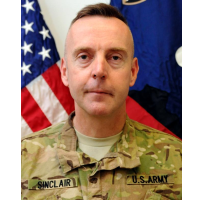 Brig. Gen. Jeffrey Sinclair (photo: AP, US Army)
The trial of a former top Army commander in Afghanistan accused of raping a junior officer began the first week of March after his defense team unsuccessfully tried to get the case thrown out.
Brig. Gen. Jeffrey Sinclair is charged with two counts of forced oral copulation with a female captain while on deployment in Iraq and Afghanistan.
The allegations, which surfaced two years ago while Sinclair was deputy commander of U.S. forces in southern Afghanistan, led to him being removed from his command and transferred to Fort Bragg, North Carolina, where the trial is being held.
Sinclair admits to having an affair with his accuser, but insists their sexual encounters were consensual.
Prior to the court-martial getting underway, the lead prosecutor in the case, Lt. Col. William Helixon, created additional controversy by resigning.
Helixon claimed that he had to quit the case because senior Army commanders wanted Sinclair convicted as an example.
Sinclair's lawyer, Richard Scheff, has tried to use Helixon's claims to prove his client is being scapegoated.
"There's no person who has looked at the facts of this case who has concluded that politics isn't driving the ship here," Scheff, chairman of the Montgomery McCracken law firm in Philadelphia, told Reuters. "It's really troubling."
In a strategic move designed to limit the scope of the trial, Sinclair pleaded guilty to lesser accusations in the case. Unless the court accepts his plea, he also faces charges that include adultery, which is forbidden under military rules, attempting to obtain nude photos of other female officers, and possessing pornography while overseas.
If convicted on the rape charge, the general could receive a sentence of life in prison. It would be the first conviction of a general officer for sexual assault.
The historic case comes at a time when critics have accused the Pentagon of not cracking down on sexual assaults, which have risen dramatically in numbers.
A Defense Department study released last May showed incidents of rape and other unwanted sexual contact soared 37% from 19,000 in 2011 to 26,000 in 2012.
-Noel Brinkerhoff
To Learn More:
Judge Won't Dismiss Sexual Assault Charges Against General (by Alan Blinder, New York Times)
Army General Offers Plea to Narrow Assault Case (by Alan Blinder and Richard Oppel, New York Times)
High-Ranking U.S. Military Officer to Stand Trial for Raping Junior Female Officer (by Kelly Twedell, Reuters)
Prosecutor's Departure Fuels Debate over Command Influence in Sexual Assault Cases (by Andrew Tilghman and Joe Gould, Military Times)
Two Dozen Generals and Admirals Investigated for Sexual Misconduct (by Noel Brinkerhoff, AllGov)
Air Force Version of Punishing Sexual Assault: No Promotion (by Matt Bewig, AllGov)
17 Victims Sue Rumsfeld and Gates over Failure to Deal with Military Rapes (by David Wallechinsky and Noel Brinkerhoff, AllGov)