Air Force Version of Punishing Sexual Assault: No Promotion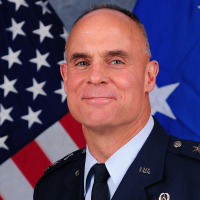 Craig Franklin
The military "justice" system—an oxymoron according to critics—has struck again. Like a modern-day Caesar, USAF Lt. Gen. Craig Franklin last month gave a thumbs-down to the sexual assault conviction of Air Force pilot Lt. Col. James Wilkerson, who was found guilty last November by an all-male military jury of aggravated sexual assault, abusive sexual contact and three counts of conduct unbecoming an officer and gentleman, for groping a sleeping female houseguest's breasts and vagina.
Gen. Franklin—who is not a judge and did not attend Wilkerson's trial—has the power to overturn the verdict because he is Wilkerson's commander. Under the military's bizarre system of law, Franklin is not required to explain his decision, which is final—it cannot be reviewed or overturned, not even by the secretary of defense or the president.
With the Pentagon estimating that about 19,000 sexual assaults occur in the military each year and the Senate Armed Services Committee set to hold its first hearing on the issue in ten years next week, Franklin's tone-deaf intervention could not have come at a worse time for the top brass. The Air Force has been hit especially hard by the scandal at its basic training facility at Lackland Air Force base, where at least 11 male instructors/perpetrators committed rape and sexual assault on nearly 50 female recruits/victims.
Despite many promises over the years to take the problem of sexual assault seriously, the best the Air Force can do now is simply fail to promote Wilkerson and hope he retires—at full pension, since Franklin's decision wipes the conviction from Wilkerson's record.
Franklin's unilateral and unexplained decision has drawn harsh criticism from victim advocates and members of Congress. Sen. Claire McCaskill (D-Missouri)—a former prosecutor herself—called on USAF Chief of Staff Gen. Mark Welsh and USAF Secretary Michael Donley to fire Wilkerson and remove Franklin from his command. "This stunning decision demonstrates a total disregard for the survivors of sexual assault and for the findings of the military justice system," she wrote.
Unsurprisingly for those familiar with the tight-knit, macho culture of military pilots, Lt. Gen. Franklin, like Lt. Col. Wilkerson, is also a fellow fighter pilot. As the victim in the case, whose name has been withheld by the media, said of Franklin's reversal, "I found that absolutely shocking," calling it "a prime example of the old boys' network. It's cronyism through and through."
-Matt Bewig
To Learn More:
Air Force's Accountability for Sexual Assault: Not Promoting Convicted Officer (by Spencer Ackerman, Wired)
Reinstated Air Force Pilot Unlikely to Get Promoted any Time Soon (by Nancy Montgomery, Stars and Stripes)
Air Force General's Reversal of Pilot's Conviction for Sexual Assault Angers Lawmakers (by Craig Whitlock, Washington Post)
Air Force to Purge Work Spaces of Photos of Scantily-Clad Women (by Noel Brinkerhoff, AllGov)
Court to Decide if Military Rape Victims Can Sue Defense Dept. (by Noel Brinkerhoff, AllGov)