Another Senior ISIS Commander Received Military Training in the U.S.
Wednesday, November 16, 2016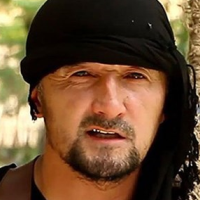 Gulmurod Khalimov (photo: Getty)
By Andrew E. Kramernov, New York Times
MOSCOW — In a propaganda video released last year, an Islamic State militant wearing a black bandanna and cradling a sniper rifle made the usual grim threats against the United States. Now, there may be a new twist to his warnings.
The militant, Gulmurod Khalimov, a former police commander from Tajikistan, boasted of his extensive American military training — truthfully, it turns out. But some news accounts say he was subsequently promoted to military commander of the Islamic State.
"I was in America three times," Mr. Khalimov said in the video, which appeared online last year. "God willing, I will come with this weapon to your cities, to your homes, and we will kill you."
That prospect remains highly unlikely. But there is no doubt that as he rose in the ranks of a special police force in Tajikistan, a former Soviet republic, Mr. Khalimov received extensive taxpayer-funded military training from the United States to help counter drug-running and extremism along the border with Afghanistan.
Now, Mr. Khalimov appears to have become the second senior commander of the Islamic State, the terrorist group he defected to last year, to have benefited from American military training provided to former Soviet states.
Mr. Khalimov's precise rank is unclear; he could be the group's so-called minister of war, or military commander in chief. In any case, the State Department, which oversaw his training, thinks he is important enough that on Aug. 30, it offered a $3 million reward for information on his whereabouts. The Islamic State's previous military commander was killed in an airstrike earlier this year.
The State Department has been publicizing the reward in Tajikistan, where relatives or acquaintances might have salient information.
Kurt R. Rice, the department's acting assistant director for threat investigations, told Tajik journalists in September that Mr. Khalimov's American training made him a particular danger, but he did not elaborate on Mr. Khalimov's role in the terrorist group, also known as ISIS or ISIL.
"He can use this knowledge to create difficulties for our countries," Mr. Rice said. "He's a person who can create difficulties." Mr. Rice's office declined a request to interview him about Mr. Khalimov's training, citing his travel schedule.
After the State Department announced the reward, an Iraqi news agency, Alsumaria, reported that Mr. Khalimov had been promoted to military commander for the Islamic State, replacing Omar al-Shishani, an ethnic Chechen from Georgia who was killed in the airstrike. Russian news outlets have also said Mr. Khalimov was promoted, but neither those accounts nor the Iraqi report could be independently verified.
"The U.S. putting a bounty on his head is significant," Charlie Winter, a senior research fellow at the International Center for the Study of Radicalization, in London, said in a telephone interview. "But it's not possible to know if he's the strategist of military operations."
Further muddying the picture, the SITE Intelligence Group, which monitors extremist propaganda, has found no formal Islamic State announcement of Mr. Khalimov's position, according to Adam Raisman, an analyst who studies the group's postings.
If Mr. Khalimov was, in fact, promoted, he would be the second Islamic State commander in chief to have been trained in American military aid programs in the former Soviet Union. Mr. Shishani, whose real name was Tarkhan Batirashvili, had served in the Georgian Army, which is equipped and funded by the United States as a bulwark against Russian expansion.
American military aid to Tajikistan is more narrowly focused on fighting terrorism and narcotics, because the country is a close ally of Russia. The aid has flowed even though Tajikistan is ruled by an eccentric and authoritarian president, Emomali Rahmon, whose police forces are often accused of abuses.
Along with jailing dissidents and using excessive force — in one case, killing 20 civilians in a paramilitary action — Mr. Rahmon's police forces have been accused of more unusual human rights abuses. A provincial governor recently said that he had forcibly shaved the beards of 13,000 men suspected of sympathizing with fundamentalist Islamists.
Muhiddin Kabiri, the exiled leader of Tajikistan's main opposition party, the Islamic Renaissance Party, said in a telephone interview that Mr. Khalimov "was always against the moderate opposition" and that his police unit was known for abuses, but that the United States had turned a blind eye.
The State Department provided five training courses for Mr. Khalimov, three of them in the United States, including at least one run by the company once known as Blackwater in Baton Rouge, La. A spokesman has said the department vetted Mr. Khalimov and did not violate the Leahy Law, which prohibits the government from providing military training to foreign military units that violate human rights.
With American training programs on his résumé, Mr. Khalimov became commander of a paramilitary police force in 2013, raising alarm among human rights groups about the training even before he defected to the Islamic State.
"The U.S. military has been providing a lot of expertise and training to abusive and repressive governments in Central Asia," Steve Swerdlow, a senior researcher for Human Rights Watch, said in a telephone interview.
"Military cooperation has to be contingent on human rights," Mr. Swerdlow said. "Tajikistan got a free pass despite the atrocious situation with human rights."
American military training programs are generally carried out by the Defense Department but overseen by the State Department, an arrangement that broke down in Tajikistan, according to a 2015 report by the State Department's Office of the Inspector General that looked into the American response to the Tajik police operation that killed 20 civilians in 2012.
Mr. Khalimov, then a deputy commander of the special police unit, took part in that operation but still continued his American military training until 2013.
The report found that the Office of Military Cooperation, the Pentagon group that arranged training for the suspect police units, had also conducted the investigation into the killings — effectively determining that Mr. Khalimov's training was legal — rather than the political section of the United States Embassy in Tajikistan, which should have overseen the military education programs.
The report concluded that the lack of oversight undermined "confidence that the embassy provides a full and reliable picture of local developments."
While it is unclear exactly what training Mr. Khalimov received, a 2008 diplomatic cable from the embassy released by WikiLeaks explained what the paramilitary police and other units requested.
The groups wanted training in "mission analysis and the military decision making process, intelligence preparation of the battlefield, direct action, raids and ambushes, special reconnaissance, close quarters combat and battle, sniper and observe operations, military operations in urban terrain."
To Learn More:
Identities of Foreign Military Leaders Enrolled in Controversial U.S. Army School May Be Kept Secret, Rules Court (by Philip A. Janquart, Courthouse News Service)
U.S. Spent $500 Million to Train Anti-ISIS Rebels in Syria…Only 4 or 5 are Still Fighting (by Noel Brinkerhoff and Steve Straehley, AllGov)
U.S. Still Training Honduras Military after Military Coup (by Noel Brinkerhoff, AllGov)