U.S. Spent $500 Million to Train Anti-ISIS Rebels in Syria…Only 4 or 5 are Still Fighting
Monday, September 21, 2015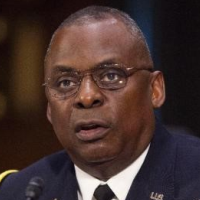 Gen. Lloyd J. Austin (photo: Pablo Martinez Monsivais, AP)
In addition to launching an air war against ISIS, the Obama administration spent half a billion dollars to train Syrian fighters to take on the Muslim fundamentalists trying to take over Syria and Iraq.
That program (pdf) turned out to cost about $100 million per fighter, with only four or five still fighting ISIS, Gen. Lloyd J. Austin III, head of the United States Central Command, told a senate hearing on Wednesday.
Launched in May, the program's initial goal was to train 5,400 fighters in the first year. The effort fell far short of that promise, producing between 100 and 120 anti-ISIS warriors. Then, the fledgling rebel group suffered an attack by an al-Qaeda affiliate in July that killed 54 fighters.
Congress and the White House have traded blame for the project's failure. "It is true that we have found this to be a difficult challenge," White House press secretary Josh Earnest said. "But it is also true that many of our critics had proposed this specific option as essentially the cure-all for all of the policy challenges that we're facing in Syria right now. That is not something that this administration ever believed, but it is something that our critics will have to answer for."
But some senators put the blame on President Obama. "I openly and repeatedly warned that if we did not find moderate elements on the ground that we could equip and arm, that void would be filled by radical jihadists," Marco Rubio (R-Florida), who's running for president, said during the second Republican debate on Wednesday. "Well, the president didn't listen, the administration didn't follow through and that's exactly what happened. That is why ISIS grew."
-Noel Brinkerhoff, Steve Straehley
To Learn More:
Finger-Pointing, but Few Answers, After a Syria Solution Fails (by Peter Baker, New York Times)
U.S. Has Trained Only 'Four or Five' Syrian Fighters against ISIS, Top General Testifies (by Spencer Ackerman, The Guardian)
Train and Equip Program for Syria: Authorities, Funding, and Issues for Congress (by Christopher M. Blanchard and Amy Belasco, Congressional Research Service) (pdf)
U.S. Bombing in Syria Said to Drive More Anti-Assad Rebels to Join or Support ISIS (by Noel Brinkerhoff, AllGov)
U.S. Strategy against ISIS in Syria Relies on Backing "Moderate Rebels"... Who May Not Exist (by Steve Straehley, AllGov)