After 5-Year Battle, EPA Approves New Rules to Regulate Deadly Formaldehyde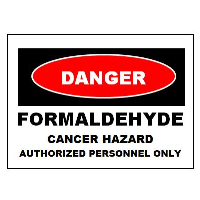 (graphic: Steve Straehley, AllGov)
By Rachel Abrams, New York Times
The Environmental Protection Agency on Wednesday announced new limits to formaldehyde exposure, ending a battle of more than five years to regulate a toxic chemical commonly found throughout the home.
Until now, the federal government has not regulated formaldehyde, a known carcinogen, in wood products. Formaldehyde is commonly used as a glue in products like flooring and furniture.
The rules, which go into effect next year, will require manufacturers to comply with new testing and certification requirements.
"We are carrying out important measures laid out by Congress to protect the public from harmful exposure of this widely used chemical found in homes and workplaces," said Jim Jones, the assistant administrator at the agency's office of chemical safety and pollution prevention.
The winding road to the new rules started in 2010, when lawmakers voted to establish emissions standards for manufactured wood. The law instructed the EPA to come up with a way to enforce them.
The agency proposed numerous requirements, including rules for manufacturers to test and certify products as safe. But the process slowed after a broad coalition of industry players, including furniture-makers and lawmakers on both sides of the aisle, objected to some of the agency's ideas. Smaller manufacturers were particularly concerned that the new requirements would be too onerous and expensive.
The issue gained more urgency last year, when Lumber Liquidators, a major importer of discount flooring, was accused of selling products with dangerous levels of formaldehyde. Health and safety advocates said the scandal highlighted the federal government's lack of oversight, particularly for products made overseas.
Lumber Liquidators has denied that its products are dangerous and has stopped selling laminate flooring from China.
The final rule carves out some exemptions that could help ease the burden for smaller players, according to Tom Neltner, the chemicals policy director for the Environmental Defense Fund, who has been deeply involved in reviewing the EPA's proposals.
Companies that simply laminate — applying a thin wood veneer to a piece of existing wood — must prove that they have purchased manufactured wood from a company that complies with the new rules. Laminators also have seven years to switch to a non- or low-formaldehyde-emitting glue or meet some of the more robust testing requirements.
"I have to say I'm impressed," Neltner said. "They tried to address all the concerns and still protect public health."
But Bill Perdue, the vice president for regulatory compliance for the American Home Furnishings Alliance, an industry group, said that the process of applying for exemptions required its own burdensome tests and other requirements.
"It's not a 'get out of jail free' pass," Perdue said. "While there is some leeway, there is still a lot of work for our industry to do in order to demonstrate that we're complying with the new rule."
Betsy Natz, chief executive of the Kitchen Cabinet Manufacturers Association, whose members are predominantly small businesses, declined to comment, saying the group had not yet had a chance to review the new rule. The association had objected to some of the EPA's earlier proposals.
To Learn More:
Formaldehyde Industry Beats Back Serious Regulation (by Noel Brinkerhoff and Steve Straehley, AllGov)
National Academy of Sciences Finally Agrees that Formaldehyde Causes Cancer (by Noel Brinkerhoff, AllGov)
Formaldehyde Added to List of Cancer-Causing Chemicals (by Noel Brinkerhoff, AllGo)
David Vitter: The Formaldehyde Senator (by Noel Brinkerhoff, AllGov)