National Academy of Sciences Finally Agrees that Formaldehyde Causes Cancer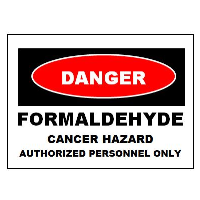 (graphic: Steve Straehley, AllGov)
The National Academies of Sciences (NAS) issued a report Friday saying formaldehyde, a common chemical found in clothing, homes and furniture, causes head and neck cancer (nasopharyngeal), nose cancer (sinonasal) and bone cancer (myeloid leukemia).
The NAS findings supported other reports by American and international experts who have said the chemical is a danger to human health.
The Environmental Protection Agency issued a report in 2011 that called formaldehyde a carcinogen, but the NAS criticized that report, as much for its format as its findings. Chemical industry lobbyists used that opportunity to have Congress force NAS to prepare a new report on the substance.
Jennifer Sass, a scientist at the Natural Resources Defense Council, characterized the new study as a response to the political attacks by chemical companies that have tried to keep formaldehyde from being blacklisted by the government.
"Part of that effort has been a vicious attack on government scientific assessments, to distort and discredit any evidence linking toxic chemicals to diseases, disabilities, or death," Sass wrote in a blog report.
But the American Chemistry Council has refused to back down, and issued a statement insisting the chemical is nonetheless safe, according to "well-studied" and "robust science."
-Noel Brinkerhoff
To Learn More:
National Academies Fully Supports Report on Carcinogens Assessment - Formaldehyde Still Causes Cancer, Despite Industry Arguments Otherwise (by Jennifer Sass, Switchboard)
National Academy of Sciences Agrees with EPA that Formaldehyde Causes Cancer (by David Heath, Center for Public Integrity)
Review of the Formaldehyde Assessment in the National Toxicology Program 12th Report on Carcinogens (National Research Council)
Formaldehyde Added to List of Cancer-Causing Chemicals (by Noel Brinkerhoff, AllGov)
David Vitter: The Formaldehyde Senator (by Noel Brinkerhoff, AllGov)