9/11 Trial Defense Team Accuses Government of Scrambling and Redacting Documents to Impede Its Work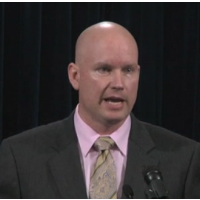 Col. James Connell (photo: Robert Stephenson, Dept. of Defense)
By Tim Ryan, Courthouse News Service
GUANTANAMO BAY NAVAL BASE, Cuba (CN) — Defense attorneys for an accused 9/11 financier complained about how prosecutorial redactions impede their work.
Kicking off pretrial proceedings Monday, Ammar al Baluchi's attorney Col. James Connell accused the government of scrambling discovery productions to make it harder on his team to match up documents.
Al Baluchi, who is also known as Ali abd al Aziz Ali, is accused of helping to finance the 9/11 attacks and arranging travel to the United States for some of the hijackers. He, along with alleged plot mastermind Khalid Shaikh Mohammad and three other alleged co-conspirators, faces the death penalty if convicted.
The case has dragged on for years. These latest proceedings mark the third attempt to try the five men. The case was briefly set to be tried in U.S. District Court for the Southern District of New York before being sent back to a military commission in Guantanamo Bay, Cuba, in 2011.
Al Baluchi's defense team says the government has improperly redacted hundreds of documents, depriving it of hundreds of thousands of pieces of information that could potentially be valuable to his defense.
Such evidence is known as Brady material after the landmark Supreme Court case Brady v. Maryland, which compels prosecutors to turn favorable evidence over to the defense.
Since the government has blacked out serial numbers of documents in al Baluchi's case, as well as names and numbers of potential witnesses, the defense claims it has been prevented from compiling information that could help their case.
In a motion from March 2014, al Baluchi's team said the government turned over multiple sets of FBI documents but that it had removed serial numbers and scrambled the pages to leave the lawyers unable to match them with other documents they have received.
Not having serial numbers also left the defense unable to compile a spreadsheet that could show holes in the government's production or find references to the documents found in other reports like the 9/11 commission.
"The government's deliberate scrambling of the FBI documents to prevent comparison between the production sets is the kind of discovery practice that gives civil litigants a bad name," al Baluchi's team wrote in the March 27, 2014, motion. "Repurposing discovery abuse as tradecraft does nothing to make it more acceptable."
The government has previously said the information the defense is missing is "irrelevant or non-material," like administrative data or personal information it does not have to hand over.
"The defense is not entitled to discovery that is irrelevant and is not material to the preparation of its case, and the commission should not be burdened with the review of the thousands upon thousands of pages of irrelevant and non-discoverable information," the prosecution wrote in a May 2013 motion. "The defense has failed to articulate to this commission why wholesale production of redacted information is material to its case and therefore the defense motion should be denied."
Ryan gave the example at Monday's hearing of the FBI conducting an interview in Lower Manhattan shortly after the 9/11 attacks of a person who gave the agency information that is only tangentially related to the case at hand. Redacting information in that situation would be perfectly acceptable, Ryan said.
"I'm talking about a statement that is nowhere near the realm of Brady, should we say," Ryan told the judge, Col. James Pohl.
When Pohl asked who made the determination about whether a given piece of evidence needed to be turned over to the defense or was subject to redactions, Ryan said it is "usually" an attorney but not always.
Sometimes, he said, his team will talk with the agent who made the report to help determine whether the information it contains is related to the case in a substantive way.
More serious to Connell was the issue of the government unilaterally redacting al Baluchi's medical records, which he said has deprived the defense of key information about his treatment in government facilities.
Connell said his team received al Baluchi's medical records more or less in random order and with heavy redactions. For example, a document detailing al Baluchi's mental health history blacked out his past attempts at self-mutilation or suicide, Connell said.
In a case so closely tied to allegations and evidence of torture used against the detainees during time they spend in CIA custody, this information could be invaluable to building a defense, Connell told the judge.
On other forms, the names of doctors and other personnel were redacted. Sometimes these names were replaced with numbers to identify the employee without using her or her actual name, but even when this happened the government did not hand over the document that would allow the defense to cross-reference these numbers.
In at least five cases, an entire page was totally covered in black ink to hide its contents, Connell said.
"This is not the way discovery is supposed to work," Connell told the judge.
To Learn More:
9/11 Defendants Accuse Feds of Illegally Redacting Guard Testimony on Prisoner Treatment (by Lacey Johnson, AllGov)
Lawyers for 9/11 Defendants Criticize Military's Selective Release of Torture-Related Documents (by Lacey Johnson, Reuters)
Guantánamo Hearing Suspended when Defendants Claim Court Translator Previously Worked at CIA Torture Site (by Noel Brinkerhoff, AllGov)
Guantánamo Defendants' Private Conversations with Lawyers Could Have Been Monitored via Hidden Microphones (by Noel Brinkerhoff, AllGov)