Guantánamo Hearing Suspended when Defendants Claim Court Translator Previously Worked at CIA Torture Site
Thursday, February 12, 2015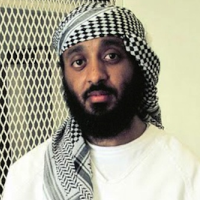 Ramzi bin al Shibh (AP photo)
The military pre-trial hearing of five 9/11 plotters at Guantánamo was halted on Monday shortly after it began following concerns over a court translator's previous work at a secret U.S. torture site.
Louay Al-Nazer worked for the Central Intelligence Agency (CIA), according to detainee Ramzi bin al Shibh, while the defendant was held at an agency "black site" for four years (2002-2006).
Al Shibh's claim forced the trial judge, Army Colonel James L. Pohl, to suspend the hearing for two days so the prosecutor, Army Brigadier General Mark Martins, could look into the allegation.
At least one other defendant, Walid bin Attash, said he also recognized Al-Nazer as a former torture site translator. Attash was reportedly "visibly shaken" by the sight of Al-Nazer in the courtroom, there to supposedly help the defense team.
Regarding Al-Nazer, Al Shibh told the judge: "The problem is I cannot trust him because he was working at the black site with the CIA, and we know him from there," according to the Miami Herald.
Attash's defense attorney, Cheryl Bormann, wondered if the presence of Al-Nazer was deliberate on the part of the U.S. government, saying it was either "the biggest coincidence ever" or "part of the pattern of the infiltration of defense teams."
Another defense attorney, David Nevin, asked Pohl to order Al-Nazer to remain at Guantánamo and answer questions from the defense lawyers. But Pohl refused to compel Al-Nazer to do so, leaving it up to the translator to decide whether to talk to the attorneys.
This week's pre-trial hearing is a resumption of the hearing that was halted last April so the Justice Department could investigate alleged improper activity by the FBI, including claims that agents had conducted electronic surveillance on meetings between defense attorneys and their clients.
-Noel Brinkerhoff
To Learn More:
Guantánamo Hearing Halted by Supposed CIA 'Black Site' Worker Serving as War Court Linguist (by Carol Rosenberg, Miami Herald)
Hearing for Accused 9/11 Plotters Halted after Infiltration Charge (by Tom Ramstack, Reuters)
Unofficial Transcript (pdf)
FBI Accused of Trying to Turn Defense Security Officer into Spy in 9/11 Military Hearing Case (by Noel Brinkerhoff, AllGov)
9/11 Suspects Can't Mention being Tortured during Trial Testimony because Their Torture is Classified (by Matt Bewig, AllGov)